MARIA'S BREAD PUDDING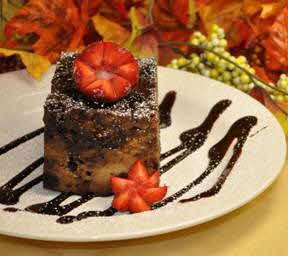 Classic and unique Thanksgiving recipes that are sure to 'spice' up your holiday menu. Courtesy of Maria Zoitas, creator of 'Maria's Homemade' line of prepared food at Westside Market NYC.
(Yields 8 Servings)
INGREDIENTS
• 1 Loaf of French bread (or any other white bread), cut into 1 inch cubes.
• 1 Quart regular milk
• 3 Beaten eggs
• 2 Cups of sugar
• 2 Tablespoon vanilla
• 1 Cup raisins (soak them in water for 10 minutes)
• ¼ Cup teaspoon allspice
• ¼ Cup teaspoon cinnamon
• 3 Tablespoons melted unsalted butter

DIRECTIONS
1. Preheat oven to 350°F.

2. In a medium bowl soak the bread in milk for 40-45 minutes or until all milk is absorbed.

3. In another bowl, beat eggs, sugar, vanilla, and spices together, then add the soaked bread and raisins.

4. Butter a 9x13 inch baking pan, and pour in the mixture.

5. Place in the oven for 40-45 minutes.

6. The bread pudding will be ready when the edges are brownish.

7. Remove from oven and let it set at room temperature for at least an hour before serving.

* Recipe courtesy of 'Maria's Homemade' and Westside Market NYC
www.wmarketnyc.com/