CRANBERRY SAUCE
WITH ORANGE SKIN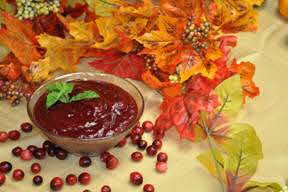 Classic and unique Thanksgiving recipes that are sure to "spice" up your holiday menu. Courtesy of Maria Zoitas, creator of "Maria's Homemade" line of prepared food at Westside Market NYC.
(Yields 6 – 8 Servings)
INGREDIENTS
• 1 cup of water
• 1 cup of sugar
• 12oz ocean spray cranberries (fresh/frozen)
• ½ cup orange concentrated juice
• 1 teaspoon chopped orange skin
• 2 cinnamon sticks

DIRECTIONS
1. Place all ingredients in a 2 quart pot, sauce pan and bring it to boil.

2. Once pot is boiling bring the heat to medium and cook the sauce for about an hour.

3. Remove cinnamon sticks and use a barbed mixer to pure' a bit to thicken.

4. Chill or serve it warm.

* Recipe courtesy of "Maria's Homemade" and Westside Market NYC
www.wmarketnyc.com/