MARIA'S APPLE SAUCE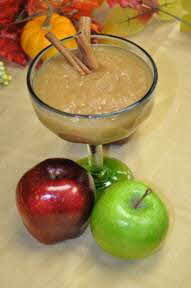 Classic and unique Thanksgiving recipes that are sure to 'spice' up your holiday menu. Courtesy of Maria Zoitas, creator of "Maria's Homemade" line of prepared food at Westside Market NYC.
(Yields 4 – 6 Servings)
INGREDIENTS
• 6 Apples, peeled, cored and chopped
• 1 Cup of water
• ¼ Cup of white sugar
• ½ Teaspoon of ground cinnamon

DIRECTIONS
1. In a 2 quarts sauce pan, combine all ingredients, cover sauce pan and cook over medium heat for 15-20 minutes (or until apples are soft).

2. Allow for the mixture to cool, then mash with a fork or a potato masher.

* Recipe courtesy of "Maria's Homemade" and Westside Market NYC