MARIA'S BUTTERMILK BISCUITS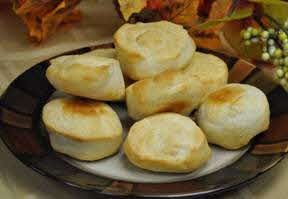 Classic and unique Thanksgiving recipes that are sure to "spice" up your holiday menu. Courtesy of Maria Zoitas, creator of "Maria's Homemade" line of prepared food at Westside Market NYC.
(Yields 10 Biscuits)
INGREDIENTS
• 2 Cups unbleached all-purpose flour
• ¼ Cup or less of unbleached all-purpose flour to dust the board
• ¼ Teaspoon baking soda
• 1 Tablespoon kosher salt
• 6 Tablespoons unsalted cold butter
• 1 Cup buttermilk

DIRECTIONS
1. Preheat oven to 450°F.

2. Combine all dry ingredients in a food processor.

3. Cut the butter into chunks, add to the dry ingredient mixture until it becomes a ticker mix and pulse in the food processor for a few minutes.

4. Add buttermilk into mix until it is well combined.

5. Place the dough out onto a floured board.

6. Note: do not use pin roller. Use your hands to gently pat the dough until you achieve a one inch thickness.

7. Use a round cutter to cut out the biscuit rounds.

8. Place the biscuits on a cookie sheet and bake for about 10-12 minutes.

* Recipe courtesy of "Maria's Homemade" and Westside Market NYC