MARIA'S PECAN PIE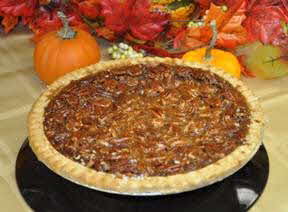 Classic and unique Thanksgiving recipes that are sure to 'spice' up your holiday menu. Courtesy of Maria Zoitas, creator of 'Maria's Homemade' line of prepared food at Westside Market NYC.
INGREDIENTS
• 1¼ Cup packed light brown sugar
• ¾ Stick unsalted butter
• ¾ Cup light corn syrup
• 2 Teaspoon pure vanilla extract
• ½ Teaspoon grated orange zest
• ¼ Teaspoon salt
• 3 Large eggs
• 2 Cups of halved pecans
• 1-9 Inch pie shell

DIRECTIONS
1. Preheat oven to 350°F.

2. In a small saucepan melt the butter over medium heat and add brown sugar, whisking until smooth, then remove from heat.

3. Whisk in corn syrup, vanilla extract, orange zest, and salt.

4. In a medium bowl lightly beat the eggs, and then add them to the mixture.

5. Place pecans in a pie shell and pour the mixture over them.

6. Bake pie in the oven for 50-60 minutes.

7. Remove from oven and let it cool at room temperature.

* Recipe courtesy of 'Maria's Homemade' and Westside Market NYC