PUMPKIN SOUP WITH
GRANNY SMITH APPLES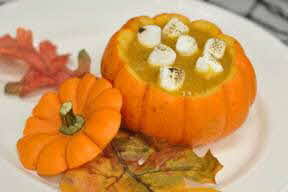 Yields 6 – 8 Servings
INGREDIENTS
• 1½ Lb. Seeded Pumpkin cut in wedges
• 2 Granny Smith Apples, peeled, cored and cut into cubes
• 1 Cup of diced white onions (1/2 inch cubes)
• 8 oz. Can of pumpkin pure
• 2 Tsp. Ground cinnamon
• 1 Tsp. Ground ginger
• 1/2 Tsp. Ground nutmeg
• 1½ Cup light cream
• 6 Cups Water
• 1 Cup Orange Juice
• 1 Stick of salted butter
• 1 Tsp. Salt

DIRECTIONS
1. Preheat oven to 350°F.

2. Roast the pumpkin wedges in oven for 15-20 minutes and then let it rest at room temperature for about 5 minutes.

3. Scoop out the pumpkin from its skin.

4. In a 4 quart pot sauté with butter the white onions for 5 minutes

5. Add the apples to pot, sauté for another 5 minutes.

6. Add all other ingredients and cook for an hour.

7. For a smoother soup you may use a soup electric mixer to puree the soup.

* Recipe courtesy of Maria Zoitas, creator of "Maria's Homemade" line of prepared food sold exclusively at Westside Market NYC