MARIA'S SWEET POTATO PIE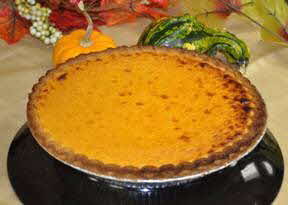 Classic and unique Thanksgiving recipes that are sure to 'spice' up your holiday menu. Courtesy of Maria Zoitas, creator of 'Maria's Homemade' line of prepared food at Westside Market NYC.
INGREDIENTS
• 1/3 Cup of soft butter
• ½ Cup sugar
• 2 beaten eggs
• ¾ Cups mashed sweet potatoes
• 1 Teaspoon vanilla extract
• ½ Teaspoon ground cinnamon
• ½ Teaspoon ground nutmeg
• ¼ Teaspoon salt
• 1 Unbaked pastry pie shell (9 inches)

DIRECTIONS
1. Preheat oven to 425°F for 10 minutes.

2. In a bowl mix the butter, sugar and eggs and mix.

3. Add milk, sweet potatoes, vanilla, cinnamon, nutmeg, and salt and mix well.

4. Pour mixture onto the pie shell.

5. Bake at 425° for 15 minutes; reduce heat to 350°F and bake for another 35-40 minutes. Insert a tooth pick or knife to see if it comes out clean. If it does, remove the pie from the oven.

6. Let it rest at room temperature for 2 hours before serving or before refrigerating.

* Recipe courtesy of 'Maria's Homemade' and Westside Market NYC