ROASTED BRUSSELS SPROUTS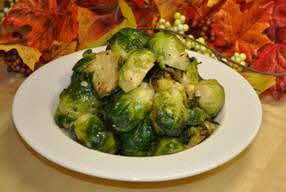 Classic and unique Thanksgiving recipes that are sure to "spice" up your holiday menu. Courtesy of Maria Zoitas, creator of "Maria's Homemade" line of prepared food at Westside Market NYC.
(Yields 6 Servings)
INGREDIENTS
• 2 Lbs. Brussels sprouts
• 1 ½ Extra Virgin Olive Oil
• 1 Teaspoon Kosher salt
• ½ Teaspoon ground black pepper

DIRECTIONS
1. Preheat oven to 400°F

2. Trim the ends of the Brussels sprouts and remove any yellow leaves.

3. In a medium bowl season and toss the sprouts with the olive oil, salt and pepper.

4. Place seasoned sprouts on a sheet pan and bake them for 20-25 minutes or until the Brussels sprouts are brown.

* Recipe courtesy of "Maria's Homemade" and Westside Market NYC
www.wmarketnyc.com/