Sunday in Oaxaca: A One Day Culinary Tour
A One-day Gastronomic Delight for Mexican Food Aficionados
Alvin Starkman, M.A., LL.B. (Alvin's archive)
With careful research and planning, families and small groups of Mexican food aficionados visiting Oaxaca can select any vacation time of year, and turn the trip into a lifetime of memorable gastronomic experiences. A recent culinary tour of Oaxaca arranged for visiting chefs and food writers illustrated the point in spades. The key words of course are "research and planning." The other prerequisite is ensuring that the visit includes a Sunday.

On this tour, each participant was enthralled with the diversity of their Sunday experiences: the pageantry of the Tlacolula marketplace; learning to prepare traditional dishes from Zapotec natives; indulging at a roadside eatery; swimming in natural springs within an exquisite mountain setting; and finishing off the day with dinner at a downtown Oaxaca restaurant noted for its superb and relaxing ambiance.

Begin A Sunday Culinary Extravaganza With Rocio & Family At Casa Santiago
Rocio Mendoza is the daughter-in-law of Casa Santiago owners Don Porfirio and Doña Gloria, weavers extraordinaire in the rug village of Teotitlán del Valle located less than a half hour's drive from Oaxaca. The family's humility, friendliness, and welcoming nature are striking to the extreme. Tri-lingual Rocio (English, Spanish and native Zapoteco) is accustomed to hosting travelers; she has an academic background in tourism and a sideline business preparing meals for couples and families visiting the homestead and wishing to stay for lunch or dinner.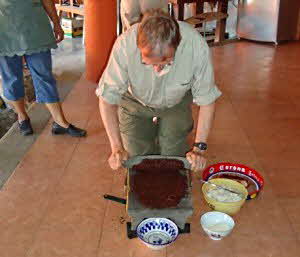 Arrangements can be made with Rocio to begin one's Sunday with a visit to Casa Santiago to learn, hands on, how to make hot chocolate from scratch (grinding toasted cacao beans and other ingredients on a stone comal), as well as the town's signature dish for special fiestas, tamales de amarillo. Participants in the Oaxaca culinary tour spend about 2½ hours with the family, having their informal cooking lesson and indulging in the fruits of their labor together with members of the Santiago extended family.

Gastronomic Delights Abound In The Tlacolula Market On Sundays
Next is the Tlacolula marketplace, held only on Sundays. With a reliable and knowledgeable guide or driver, one should be able to sample the traditional drinks of tejate, chilacayota and pulque, without gastrointestinal concerns – and take photographs at will in the most colorful marketplace in the state of Oaxaca.

If the sizzling of chicken grilling on makeshift barbeques, or the billowing aromatic smoke of in-ground-prepared goat or mutton is too hard to resist, then certainly sample it all in Tlacolula, for more than the customary two hours or so it takes to meander through the market. But for those who can exercise restraint, a greater treat awaits at lunchtime.

Roadside Eatery El Tigre
Sara and Hilarino, owners of El Tigre, usually close around 3 p.m. on Sundays, working their combined roadside restaurant and quaint mezcal factory full throttle the rest of the week. But a simple phone call can assure that they will remain open the balance of the day. It's just in their nature. The comedor is without electricity, meaning that all meals are prepared during daylight hours over an open fire on the grill or comal, and fresh meats and cheeses are delivered fresh daily, occasionally kept overnight in insulated coolers.

Tour participants selected from appetizers of quesadillas and memelitas, and main courses consisting of fresh salad and black beans with choice of cecina (pork), tasajo (beef), chorizo (sausage), combination plates, alambre (sliced grilled beef with onion and chile, smothered with melted quesillo), or choriqueso (grilled chorizo with melted quesillo). Each dish, as well as the salsa, was prepared fresh, in front of our eyes. And of course tortillas made by hand and cooked over an open flame go without saying.

Hieve El Agua For A Well-Deserved Respite And Swim, And Dinner At Los Danzantes
Most of the Oaxaca culinary tour participants brought along bathing suits and towels. The bubbling springs at Hierve el Agua, about 20 minutes from El Tigre, feed two pools which are conducive to safe swimming in a spectacular mountain setting. One can hike to the petrified water falls (hardened deposits of minerals, predominantly magnesium and calcium carbonate), swim, or just relax. And of course there are local vendors providing an opportunity to have a final snack before returning to Oaxaca for a rest, and then dinner.

In their wisdom, organizers elected a relaxed yet exquisite dining ambiance to conclude a full day of touring in the hot May Oaxacan sun. Los Danzantes has been a Oaxaca fixture for several years. Owner Jaime Muñoz has found the recipe for combining atmosphere, quality fare and reasonable prices (although his selection of mezcals is quite pricey, so be vigilant).

Although a new executive chef has recently taken over the helm, stalwart menu items will hopefully remain such as pastas with a uniquely Oaxacan touch (ravioli stuffed with a delicacy known as huitlacoche [corn mold] and thin noodles with smoky chipotle, red onion, queso and sour cream), seared tuna steak with mango and habanero sauce, and my favorite, coconut crusted shrimp with sweet and sour apricot and citrus sauce.

How To Arrange A One-Day Oaxaca Culinary Tour
As suggested at the outset, research and planning are the keys to a rewarding Oaxaca culinary experience. And while a knowledgeable guide or driver is part of the formula, one's hotel or B & B staff should be consulted in order to be further assured of a day which meets or exceeds expectations. But those interested in a full-week culinary extravaganza should consider leaving it up to tour organizers with a proven record of specializing in the food and drink of Oaxaca. Imagine the possibilities – this was only one 12 hour segment of a multi-day culinary tour of Oaxaca, noted by many as the gastronomic capital of Mexico.

Owner of Casa Machaya Oaxaca Bed & Breakfast (www.oaxacadream.com), Oaxaca resident Alvin Starkman leads personalized tours to the craft villages, market towns, pre-Hispanic ruins and more off-the-beaten-track sights in the central valleys of Oaxaca, is a consultant to documentary film production companies working in the region, and writes articles about life and cultural traditions in Oaxaca (including restaurant reviews) for magazines, newspapers and travel websites. Alvin also arranges Oaxaca culinary tours with Chef Pilar Cabrera (www.oaxacaculinarytours.com). Casa Machaya Oaxaca B & B combines the comfort and service of a downtown Oaxaca hotel with the quaintness and personal touch of country inn accommodations.