MOLE NEGRO (Black mole) FROM OAXACA
Oaxacan Chef's Black Mole "one of the best meals of my life"
Alvin Starkman, M.A., LL.B. (Article archive)
When a well respected food writer describes a meal which centers upon Oaxacan mole negro as "possibly … one of the best meals of my life," the recipe ought to be reproduced. Sheryl Kirby, publishing in tasteto.com (Taste Toronto) so described her dinner prepared by Oaxacan chef Pilar Cabrera Arroyo, during Cabrera's month-long tour of Southern Ontario, to promote the cuisine of the southern Mexico state of Oaxaca.

While Oaxacan mole negro can be termed black mole sauce, and has been described as chocolate chicken because Oaxacan chocolate is one of the ingredients in the poultry dish, according to Cabrera the use of chocolate is more to provide balance to the ingredients, than to create flavor per se. Whatever its primary purpose, chocolate as one of the thirty ingredients in this acclaimed Oaxacan dish, certainly does the trick.
Mole Negro: Best Known Sauce in All of Oaxaca Contains "Imported" Ingredients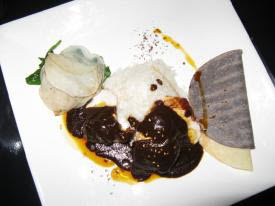 Many people mistakenly believe that mole negro is the only mole found in Oaxaca, because of its richness and notoriety, the latter no doubt stemming from the fact that chocolate is not often used in preparing a main course, and certainly not one which incorporates poultry. It could also be because mole negro is undoubtedly the most labor intensive and arduous of all mole recipes.

While the recipe set out below contains some 30 ingredients, some recipes for mole negro contain a few less, while others include more. Local tradition and availability of ingredients often dictate what goes into "the pot" when preparing the sauce. Though the chiles are indigenous to Mexico, many of the ingredients are not, having been introduced to the country by Europeans, predominantly the Spanish, during the Conquest. For example, almonds, pecans, sesame seeds and peanuts, raisins, cinnamon, anise, clove, cumin and peppercorn, were all imported to the State of Oaxaca by foreigners.

RECIPE
Oaxacan Mole Negro Recipe of Pilar Cabrera Arroyo
(reproduced with permission)
Pilar Cabrera is-owner of well-known downtown Oaxacan restaurant La Olla, and La Casa de los Sabores Cooking School
serves six

Ingredients:
· 8 mulato chiles
· 8 pasilla mexicano chiles
· 4 chilhuacle chiles
· 4 T lard
· ¼ cup almonds
· ¼ cup raisins
· ¼ cup pumpkin seeds
· ¼ cup pecans
· ¼ cup peanuts with skins
· 4 slices of egg bread (semisweet), torn in pieces
· ¼ cup sesame seeds
· ¼ t dried thyme
· ¼ t dried marjoram
· ¼ t dried oregano
· 4 avocado leaves
· 2 cinnamon sticks
· ¼ t anise
· 3 whole cloves
· ¼ t cumin
· 3 whole black peppercorns
· 2 plantains, cut in slices
· 1 tomato, roasted
· 3 tomatillos, roasted
· 3 cloves of garlic, roasted
· ½ medium onion, roasted
· 4 cups chicken broth
· 8 pieces of boiled chicken
· 3 T sugar
· ½ cup Oaxacan chocolate
· Salt to taste

Preparation:
1. Clean the dried chiles with a damp cloth. Open each by making a lengthwise slit down one side. Remove seeds, veins and stems. Reserve the seeds.

2. Heat 3 T of the lard in a saucepan, and then fry the chiles in it. Remove chiles as soon as then begin to change color and become crispy, and place them in a bowl lined with absorbent paper towel.

3. In another pan, heat the remaining lard and fry the raisins in it until they puff up and brown a bit. Remove the raisins and then add the almonds, pecans and peanuts, frying for 5 minutes until they are a dark brown color. Remove them from the pan. Then fry the pumpkin seeds, sesame seeds, cinnamon, anise, cloves, cumin and black peppercorns in the same pan, until they are a deep brown color. Remove them and then add the bread pieces to the remaining hot lard for 2 minutes, then remove.

4. Fry the plantains in oil until they are golden.

5. Roast the tomatoes, tomatillos, onion and garlic.

6. Place the spices, tomatoes, 1 plantain and 1 cup of chicken broth into the blender. Blend until smooth. Place in bowl and set aside.

7. Place the fried chiles and 1 ½ of chicken broth into blender. Blend until a smooth paste.

8. Remove remaining lard from the pan in which the nuts and spices were fried. Pour into a deep pot, heat, and then add the blended chiles. Cook for 3 minutes; then add the spice mixture and cook for 3 more minutes. Add the sugar and chocolate, and stir for 5 minutes. The sauce is ready when, while stirring, the fat rises to the top of the mixture.

9. Add the rest of the chicken broth and avocado leaves and season with salt. Cook for 3 more minutes over medium heat. Add chicken pieces before serving. Alternatively, arrange on individual plates as pictured.
Notes to Oaxacan Mole Negro Recipe
• Mole negro is often used as a filling for tamales, so consider preparing a double or triple recipe; mole negro freezes extremely well.

• Chilhuacle chiles are often difficult to find, even in Mexican food stores. Either purchase during a visit to Oaxaca, or order through a Mexican food online store. Often Oaxacans omit this chile because of its cost.

• Frying the chiles produces a great deal of smoke, so ensure kitchen is well ventilated.

• Fresh avocado leaves should be shiny and aromatic. If using dried leaves, look for unbroken, smooth leaves.

Owner of Casa Machaya Oaxaca Bed & Breakfast (http://www.oaxacadream.com), Oaxaca resident Alvin Starkman (M.A., Social Anthropology York University; LL.B., Osgoode Hall Law School) leads personalized tours to the craft villages, market towns, pre-Hispanic ruins and more off-the-beaten-track sights in the central valleys of Oaxaca, is a consultant to documentary film production companies working in the region, and writes articles about life and cultural traditions in Oaxaca (including restaurant reviews) for magazines, newspapers and travel websites. Alvin also arranges culinary tours of Oaxaca with Chef Pilar (http://www.oaxacaculinarytours.com). Casa Machaya Oaxaca B & B combines the comfort and service of a downtown Oaxaca hotel with the quaintness and personal touch of country inn accommodations.