14th National Mezcal Festival page 3
Alvin Starkman, M.A., LL.B. (Alvin's archive)
The 14th Annual Feria Nacional Del Mezcal In Oaxaca Turns The Corner
Outside the Feria del Mezcal and lining its extensive perimeter was a diversity of booths selling virtually every craft produced in the region: alebrijes; tapetes; embroidered blouses, dresses and huipiles; cotton textiles; jewelry and metalwork; hand-turned clay products ranging from terra cotta utilitarian, to decorative black pottery, to ultra-modern high-fired porcelain pieces. Cuisine countered the urge to shop, with tacos al pastor, tlayudas, carnitas, memelitas and more. From the street, the billowing smoke of firewood fueling comals, the rich aromas, and the sizzling of steak arrachera, drew you near – and then inside.
Oaxaca is of course known for its gastronomic greatness, so within the confines of the feria the theme continued, with a large sit-down restaurant and booths selling and offering samples of prepared moles and salsas. But you'd come for mezcal, and everything associated with it.

A gallery of vintage photos greeted you upon entering: farmers in their fields harvesting agave; traditional roadside facilities; hectare upon hectare of maguey photographed at sundown, at daybreak, in the sun and with shadows. Next there was the media area where passersby were asked if they could be interviewed for TV and radio concerning their thoughts about mezcal and the fair, as well as tourism in Oaxaca.

Renowned Oaxacan artists had been contracted to paint oils and water colors, and produce engravings and lithographs, of anything and everything having to do with agave and mezcal, from both cultural and natural perspectives: mezcal as inebriate, and aphrodisiac; agave as a majestic plant standing alone, and being uprooted from mother earth in preparation for its transformation. Artist Emiliano López had one piece in the open air art gallery. Juan Alcázar and Enrique Flores gave giving printmaking workshops.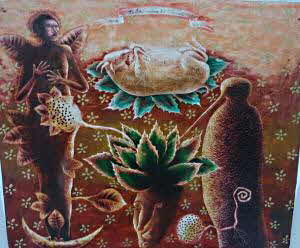 The grounds were landscaped with outcrops of cactus, agave and other succulents. An enormous 3 – D screen provided the illusion of an expansive field under cultivation, in front of which were real agave, and the tools of the trade; implements, a multi-ton limestone wheel used to crush the baked agave, and a pine vat employed to ferment. Visitors stopped to take photos of their friends and lovers posing as if an actual part of the scene.

The massive band shell and stage was host to amateurs vying for prizes for singing, strumming an instrument or telling a story. Local bands played from time to time. Nationally renowned singers and musical groups were given top billing for special evenings: Pablo Montero, María José, Sonora Dinamita, Apuesta and Julion Alvarez. This of course had nothing to do with mezcal, but attracted youth and others who wanted to hear, or just catch a glimpse. And it succeeded, as throngs queued up waiting to enter the fair to see their idols on those dates noted on posters and flyers.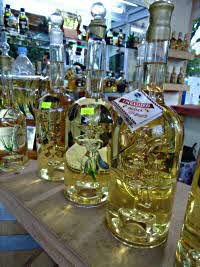 But most came to be enticed to saunter up to one makeshift bar as opposed to the next, to sample a blanco, a reposado or an añejo; or perhaps an agave tobalá; or even one of a number of cremas, a rainbow of pastel colored mezcals. There was mezcal for every budget, and for those wanting to spend even more, 1800 pesos for mezcal in a hand-blown glass bottle with a delicate glass sculpture encased inside.

Most of the big players were represented, such as stalwart Oro de Oaxaca, several producers from the Chagoya family, and the new rich kid on the block, Zignum. But small palenqueros from outlying villages hours away from Oaxaca, far beyond Matatlán, also came to ply their product. They brought their wives and daughters down from the hills to help, rather than agency hires with simulated smiles, properly poised with sashes over skimpy costumes. Fourteen years after the inaugural Feria Nacional del Mezcal, glamor and glitz still mattered and were a significant draw. According to the Minster of Tourism, this year the fair hosted a remarkable 48,000 visitors.

Well After The Feria, Mezcal Marches On
But moving forward from 2011 it's actually the Plain Janes of mezcal which will be the spirit's best ambassadors, the mezcals made from wild and lesser known varieties of agave, with different flavors and nuances. Hopefully they'll be represented much more at the Feria in years to come. Yes, mezcal still needs its commercial producers, if for no other reason that to use their big budgets to pique consumer interest by providing basic education - there's much more to mezcal than the worm. The public is becoming much more sophisticated. As the decade proceeds, aficionados of fine spirits will start to put the Glenmorangies and the Lagavulins back on the shelf, and pick up a bottle of quality mezcal.
page 1 Mezcal Primer
page 2: Historical Context

Alvin Starkman is a paid contributing writer for Mexico Today, a program for Marca País – Imagen de México. An aficionado of agave-based beverages, he takes couples and families into the hills to sample mezcal made by only traditional producers, and into the fields to participate in the harvesting of aguamiel, for fermenting pulque. Alvin has written over 200 articles about life and cultural traditions in Oaxaca, consults to documentary film companies, and with his wife operates Casa Machaya Oaxaca Bed & Breakfast (www.casamachaya.com).