Producers of Quality Mezcal In Matatlán, Oaxaca….
A Family Tradition: Five Generations of Palenqueros
Don Isaac recounts awaking at 4 am, then walking from his village of Matatlán, with his mule, to Oaxaca, arriving some 14 or 15 hours later … just to buy a large cántaro, the traditional clay vessel then used for making and transporting mezcal (also referred to as mescal). Often he would stop en route, at Santa MarĂ­a el Tule, for a drink of refreshing tejate before carrying on. Quenching his thirst, putting his feet up for a short while, and chatting with his favorite tejatero, made the arduous journey accepted custom, just part of the job.

Eighty-nine-year-old Isaac Jiménez Arrazola has been producing mezcal in Matatlán all his life, just like his father and grandfather before him, his sons Enrique and Octavio, and now his grandchildren. The town has a colorful history and pride in being one of the oldest colonial settlements in the country, founded in 1525, only a few years after Cortés arrived in Mexico. But for literally hundreds of years the crowning glory of Matatlán has been its status as world capital for the production of mezcal. In fact by 1980 this dusty one-horse-town had about 360 palenques [the facility where the agave plant (maguey) is processed until mezcal slowly drips out of the still] each producing about 2,800 liters monthly.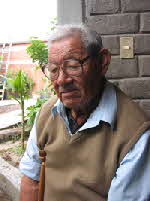 "All of my children," Don Isaac emphasizes, "from when they were very young, the boys and girls alike, learned all the steps … preparing the fields and tending the maguey, watching out for infestations, harvesting, and the process in the palenque. And my wife Juana would be in charge and do everything when I was either on the road selling, or playing in the band. You know I'm a musician as well, just like my grandfather Fidencio. He was a Master violinist."

Fidencio JimĂ©nez Romero was born in Ejutla de Crespo in 1870. Towards the turn of the century he moved to Matalán, as a young adult, and became the family's first generation of palenquero. He and his son both learned to distill mezcal the old fashioned way, using clay pots for receptacles, and carriso (tall river reed, similar in appearance and functionality to bamboo) as the tubing required for the condensation and cooling processes. It wasn't until grandson Isaac's generation that copper was introduced into the town. That was in 1935. From then until the early 1940's, copper revolutionized the means of production, while at the same time modes of transportation also underwent dramatic changes.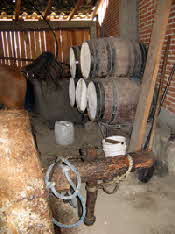 The family patriarch recalls that using clay for transporting had its definite downside, being fragile and at times dangerous. So when the opportunity arose to transport in latas de mantequa (large tins in which lard was then sold), he seized the opportunity. And then with the arrival of larger plastic containers, a further change occurred. But by about 1943, with the Pan-American highway by then almost arriving at Oaxaca, imported oak barrels began to appear. Don Isaac saw a chance to transport even larger quantities.

"In those days we never thought about aging. We used the barrels because they were big, and I could fit 12 – 14 of them on my truck, to go on my sales routes to towns and villages on the coast and in the mountains. It would take about a month to sell everything I had, so that was the longest time mezcal would be allowed to age … until I was sold out and could return home with a truckload of empty barrels. But when I realized I was losing a lot of mezcal due to barrel swelling and evaporation, I went back to plastic. I just couldn't afford to sell from the barrel."

Throughout the 1950's business was good, with national markets opening up as a result of improved highways. The family put their modest profits to work by purchasing additional tracts of land for growing agave. In 1957 they moved operations into the family homestead (still occupied today by Isaac, his wife, and son Octavio and his family).
When asked to be town mayor (el presidente municipal) in 1966, Don Isaac of course couldn't refuse the three year post, even though it was an unpaid position. It was an honor, and considered part of tequio, one's moral obligation to the community. Finances were strained, but with the assistance of the family, business continued, and in fact thrived.

By the 1980's, the Jiménez family had begun to barrel-age, bottle and export. The family realized that it could command a higher price in the marketplace by producing a smoother product with a different, and often more pleasing flavor, imparted through barreling. This more than made up for shrinkage.

Isaac's two sons' fates had been sealed. Octavio had less of an interest in academics than some of his siblings who went on to complete university and teach. Although he attended high school, he was more interested in working the fields and life in the palenque. Brother Enrique completed his secondary school education, then entered university in Oaxaca, obtaining a degree in industrial chemical engineering. During his college years he would spend the week living in Oaxaca, and then Friday afternoon his father would pick him up and bring him home to Matatlán. There he would work at the family business, from time-to-time putting his newly-learned expertise to work, bringing welcomed innovation to various aspects of production.

Finally, by 1993 the family had its own domestic brand, Mezcal del Maestro (now known as Mezcal del Amigo) which has met with success in both Europe and the US.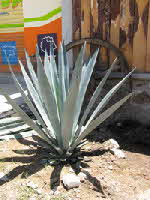 Having five well-established types of mezcal in production has given the Jiménez family a measure of security. With Octavio and Enrique now at the helm, the family has recently made a bold decision to move into the 21st century. Brother Enrique is at the cutting edge of a new technique for baking agave which will enhance quality control, while at the same time enable the family to preserve the centuries old production methods of stone-crushing the carmelized maguey using horsepower, literally, fermenting in pine vats, and distilling using a clay-brick oven.

Matatlán today remains a small town with the paved Pan-American highway running through it, mezcal factories and outlets (fábricas and expendios respectively) on both sides of the road extending for perhaps a mile. Fields of agave under cultivation blanket the rolling hills in each direction. But turn off the highway and you can still step back into time and venture into the JimĂ©nez homestead and watch mezcal being made as it was in the early 1900's, when Fidencio JimĂ©nez Romero was teaching everything he knew to his youthful grandson, Isaac. Just ask anyone in town how to get to Don Isaac's, where you'll meet Octavio and Enrique JimĂ©nez, and yes, their children, the fifth generation of palenquero.

Mezcal del Amigo, the JimĂ©nez family brand, has been producing mezcal at its new facility on the left hand side of the highway, entering Matatlán, since early 2008. You can now witness each stage of the production process, and taste a variety of high quality mezcals. And you can also ask one of Don Isaac's grandchildren to run you by the old homestead to see how it all started.

Alvin Starkman together with wife Arlene operates Casa Machaya Oaxaca Bed & Breakfast ( http://www.oaxacadream.com ). Alvin reviews restaurants, writes about life and cultural traditions in Oaxaca, and tours couples and families to the villages, including Matatlán for a visit to Mezcal del Amigo.