Oaxaca Tradition Trumps Innovation for Santa Catarina Minas Mezcal Producing Family
In the Face of Adversity
Alvin Starkman, M.A., J.D. (Alvin's archive)
1. Introduction
The incongruity is striking, between baking agave in a rudimentary in-ground oven over firewood, then crushing it using modern machinery, and finally distilling using pre-Hispanic tools and implements – clay pots, wood and river reed. Some producers of mezcal in the southern Mexico state of Oaxaca, for example in Santa Catarina Minas and Sola de Vega, indeed meld old with new.

But Felix Ángeles Arellanes is one of a dying breed of palenqueros who continues to make mezcal with virtually no hint of modernity, maintaining as much tradition as possible. The end result, according to Ángeles, makes it all worthwhile. In fact the 41-year-old resident of Santa Catarina Minas used to work with a fellow palenquero in Minas who does mix customary means of production with industrial revolution innovation. Not Ángeles.

When Ángeles and his wife Iraís Mendoza López broke away and began their own palenque in town some 17 years ago, he reverted to what he'd learned from his father and his grandfather:
"I could have saved up to buy a mashing machine, or begun using a horse or mule to pull the limestone wheel over my maguey to crush it, but this is how I was taught, and this is how I will continue, as will hopefully my children and grandchildren."
Ángeles, usually with the help of between one and four of his nine children, crushes his agave in a long narrow stone trough by hand using a four-foot long heavy hardwood club fashioned from tree trunk or branch found in the hills outside of Minas. "To fill a 1,200 liter pine vat with baked maguey," he explains, "we start mashing at about 4 a.m. and finish around 2 p.m."

2. Brief History & Materials Distinction in Traditional Oaxacan Mezcal Production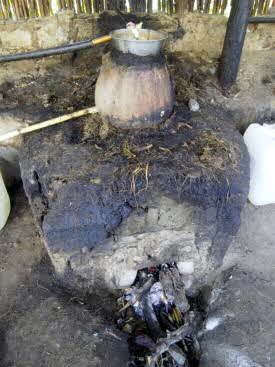 Ángeles doesn't suggest that his distant ancestors made mezcal this way, only that his children now represent at minimum the fourth generation of palenqueros who are continuing the family practice. In fact, while some scientists suggest, based on academic investigations including chemical residue analysis, that the indigenous peoples of Mexico began distilling prior to the Conquest, the more accepted version of mezcal production is that it was the Spanish who began distilling in Mexico in the mid-16th century, with native populations following suit.

Equine species disappeared from the landscapes of the Western Hemisphere approximately 9,000 years ago, and were not reintroduced until the arrival of the Spanish. Thus, there is little doubt that the process witnessed most commonly in the towns and villages outside of Oaxaca and along the sides of secondary highways, of a beast of burden crushing baked agave, and the palenquero fermenting then distilling using copper receptacles and tubing encased in brick (or stone), is a "recent" invention.
It is suggested that the use of clay pots (ollas), river reed (carriso) and hardwood mallets (marros) is a post-Conquest, likely indigenous adaptation which has endured to date; and that in some instances it represents not a centuries old family tradition, but rather a very recently "discovered" means of production. For example, families living in Pueblo Viejo in the Mixteca district of Oaxaca began producing mezcal using this method, in some cases less than a decade ago, enabling them to become new entrepreneurs with an extremely modest initial monetary outlay.

3. How the Ángeles Still Works
Even with regard to others who also make mezcal using clay pots and other locally produced tools of the trade, there are subtle as well as more profound distinctions in the process. An analogy may be drawn between the Oaxacan typical copper still configuration, and that employed in the state of Michoacán; both utilize metal receptacles, but in Michoacán, in at least some palenques, the still is comprised of a single unit, whereas in Oaxaca it's two. It comes down to how and where the steam from the fermented mash is condensed into alcohol. The use of the traditional copper still in Oaxaca has often been explained, and indeed distinguished from its Michoacán counterpart.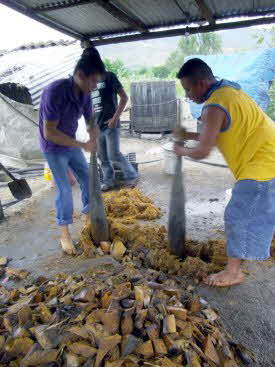 The Ángeles palenque consists of three, independently functioning stills. It's distinct from some of the other "ollas de barro" palenques which employ a single water cooling system.

A clay pot is encased in a stone and mud housing, the latter with an opening to insert firewood. A removable second olla de barro fits on top of it, open at both ends. It has a small hole in it near the bottom, into which a piece of carriso is inserted from the outside. On the inside, a hollowed out piece of tree branch fits across the pot, on an angle pointing downward so that the narrow end leads to the hole, on the other side of which is the carriso. Above the upper pot rests a metal bowl with a hole in it near the top, to which is attached a piece of rubber hose on the exterior.
When heated using firewood, the fermented liquid resting in the lower encased olla vaporizes, rising through the upper pot. A cool water source continuously fills the metal bowl, the "spent" water escaping through the rubber hose, then either recirculated or used to irrigate. As the steam rises, it reaches the bottom of the cooled bowl, causing condensation. The liquid then falls onto the hollowed piece of wood, exiting the clay through the length of carriso, then falling into a container. The liquid is distilled a second time, producing double distilled mezcal.

4. The Ángeles-Mendoza Family Enduring in the Face of Adversity
The Ángeles-Mendoza story is both uplifting and lamentable: the former because it illustrates the will to overcome adversity and the pride in steadfastly maintaining production of a mezcal crafted by a unique ritualistic custom, yielding distinct tones and nuances not often encountered; the latter because of the brushes with death the family has endured.
Ángeles became afflicted with cholera 20 years ago after drinking a milkshake (licuado) prepared in the Ocotlán market, made with milk, banana, and egg which he would later come to understand was rancid. He had begun learning how to make mezcal at age seven, so by this stage in his life he was a maestro palenquero. After a miraculous recovery he continued producing mezcal with his father. They would rent the palenque of a fellow producer, a common practice for many agave growers until they obtain the resources to build their own facility. Payment under such an arrangement is either cash or a percentage of the mezcal yielded.
"In those days there was a lot of maguey marteño around, of course as well as cultivated espadín," he advises, "in addition to other varieties which were then unheard of by most who drank mezcal." He continues:

"We used to mix whatever we grew or bought, and sold it all for one set price; but now, people pay a premium for mezcal made with other magueyes, especially the rarer varieties, so today I usually don´t mix varietals. For example my regular customers will happily pay me 50% more for mezcal made with pure marteño, as opposed to with espadín."
The market for mezcal is not what it was a decade ago. And so about 10 years ago in an effort to better provide for his growing family, Ángeles moved to Huntington Beach, California, where he worked installing underground sprinkler systems. After a year he was forced to return to Oaxaca upon learning that his father was unable to work as a result of having been gored in the leg by a bull. Following a brief attempt to lead the American Dream, with the reputation of mezcal and corresponding prices on the rise, Ángeles realized that his calling was to keep making mezcal; and so he remained in Minas.

Life was progressing positively after Ángeles' earlier near-death experience. The family was maintaining plots of land under cultivation with corn, bean and squash. It also maintained fields of agave. But in due course the size of the agave piñas cut from the fields became smaller and smaller, until it was no longer economically viable to cultivate the family's own agave. "We then switched over to corn in those fields, in some cases mixed with the other crops, rather than continue with agave," Ángeles describes, then elucidates:
"We've been doing it this way for a few years now, and buying all our maguey. Hopefully soon we'll be able to grow agave on our own land like before; but as you know it takes several years for maguey to mature so it can be used to produce mezcal, so this is a long-term plan."
Projections do not always turn out as expected. In December, 2010, Ángeles was diagnosed with a subdural hematoma, and spent a month in hospital and further time at home in bed recovering, unable to work. His wife Iraís had already been working at maximum capacity raising their large family, the children at the time ranging in age from two to nineteen. A workload already consisting of making lunch for the children still in school, helping with the crops under cultivation including greenhouse tomato production, and doing laundry on a daily basis, suddenly became even more arduous. But the family endured, came together, and in due course made up lost ground.

5. Ángeles-Mendoza Santa Catarina Minas Mezcal Today and Into the Future
Four of the children of Feliz Ángeles Arellanes and Iraís Mendoza López are still attending school on a full time basis, their youngest set to begin primary school in 2013. The older ones help out in the palenque on an as-needed basis, gradually learning the trade. One is attending COBAO, a hybrid between the public and private school systems for bright high school students with perceived academic potential. He has his eyes set on a career in business administration.

One of the children not in school works in the greenhouse (an ongoing source of income for the family), and the others in the fields including for other campesinos in Minas and environs. But they all make themselves available to help out at different labor intensive stages of mezcal production. Some will no doubt continue the family tradition.

"There seems to be more and more maguey being bought up in Oaxaca and taken to Jalisco, I imagine for tequila production," Ángeles laments. "So every year I have to go further and further away from Minas to buy."

Dictated in part by necessity and otherwise by market demand based on mezcal's recently rising star on the domestic market (Ángeles is not a member of COMERCAM, the federal mezcal regulatory board, and thus cannot export), Ángeles buys what he can get, such as (some names are local) arroqueño, marteño, espadin, bilia (tobalá), blanco, carne and canastudo.

Many producers, marketers and retailers of mezcal are snobbish when it comes to the idea of barrel aging, steadfastly maintaining that it results in adulteration and masking the unique tones, flavors and nose of mezcales produced using different agaves grown in different climatic conditions and employing different production methods. Not Ángeles:
"I do prefer my blancos, especially since they are that much different from mezcal produced in copper. But I enjoy a reposado, an añejo or gusano once in a while. For me it's mainly a matter of keeping a supply for my customers. If I empty a barrel, then for the following several months or a year I don't have anything for the next customer who wants aged mezcal. This way at least I always have something."
Ángeles is able to save up money to buy barrels, and even additional pine tanks for fermenting and other equipment required to expand operations, be it to produce aged mezcal or simply increase volume of sales for his blanco. But he's content to continue with his currently available labor and his level of production. He reasons that the necessity is not there, and whatever spare time he manages to salvage in the course of a week, he cherishes and doesn't want to lose it as a consequence of having a larger albeit more profitable palenque.

He's at a stage in life where he never has to leave home to peddle his product. Buyers come from restaurants, hotels and mezcalerias in Oaxaca, as well as from Mexico City and other states throughout the country to purchase his mezcal. Quantities range from a few to a thousand liters at a time. And sometimes he doesn't have enough stock of a particular mezcal to meet the demand. But Ángeles takes it all in stride. After all, he has nine children and a wife who maintains the family and the household, and has already had two new leases on life.

Alvin Starkman operates Casa Machaya Oaxaca Bed & Breakfast (www.casamachaya.com) with his wife Arlene, and Oaxaca Culinary Tours (www.oaxacaculinarytours.com) with Chef Pilar Cabrera Arroyo. Alvin frequently takes visitors to Oaxaca to visit the sights in the central valleys, both the usual tourist attractions, and the more off-the-beaten-track places where his true passion lies, including to visit mezcal producers like Felix Ángeles, into the fields with traditional Zapotec families to harvest aguamiel for fermenting into pulque, and to other non-touristy sights in order to provide travelers with a taste of "the real Mexico."