WHERE THE LOCALS DINE…
El Mirador Serves Up More Than A Spectacular View
Since 1978 El Mirador has been catering to almost exclusively Oaxacans, thriving without help from the tourist dollar. It must be doing something right! Of course there's the breathtaking cliff-side open air view of the city below and surrounding mountains, just up the road from the famous Auditorio Guelaguetza. Perhaps more important is the consistency of its food (I've been dining there for more than a dozen years.)

Descending the staircase from the parking area you enter the main level with a relaxed mixed décor of rústica pine tables and chairs in the interior, and PVC Coke chairs with linen covered tables on the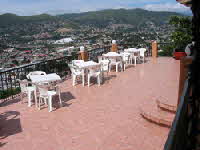 patio. There's a juke box, glass case filled with stuffed animals which muchachos can purchase to impress their señoritas, and multicolored cut-out tissue banners – typical Oaxacan adornments. The lower level has a club-style, modern ambiance, with ceiling-high picture windows to assure the same exquisite vista, lengthy bar, raised band platform and big-screen TV. In the evenings you can enjoy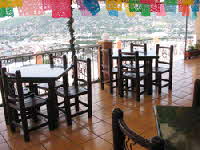 the sounds of a guitar strumming troubadour, and Thursday through Saturday dance salsa and cumbia to the beat of a local band. Depending on the hour and day, patrons consist of friends out for an evening, work colleagues, young lovers, fiesta celebrants, and invariably during July Guelaguetza time there are groups of dancers from throughout the state.

On a Thursday evening in June, by the time we left at 11 PM both levels were at 75% capacity.


Service is reliable with a surprisingly good complement of waiters. Drinks from an extensive bar menu arrive promptly. If you haven't tried a
michelada
, beer mixed with a spicy chili/lime concoction, experience it here. Salads and soups are reliable staples to begin, but for the former, stick to the green or mixed salad, since the "chef" is mainly meats and cheese atop a mound of iceberg. My daughter's shrimp soup was light and tomato based, and contained a good count of fresh
camarones
(shrimp). For a
botana
I would avoid the cold cheese and meat platter, unless you're a head cheese fan. However, both the
Botanas Mirador
and
Botanas Oaxaqueña
are scrumptious, arriving hot with samplings of traditional meats. If you're out for a light meal, consider skipping the entrée since portions of these appetizers are healthy. I nevertheless went for the skewered meat plate (
alambre
) ... tender beef, tomato, yellow pepper and onion, over a bed of rice, accompanied by fries with a welcomed medley of steamed veggies.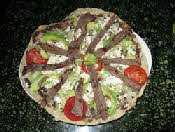 The
tlayudas
and
parrilladas
are highly recommended.
Tlayudas
are oversized tortillas. They are served crunchy with a light layer of requisite
asiento
(pork fat, but delicious) and refried beans, topped with lettuce and both traditional Oaxacan cheeses. Try ordering with your choice of beef (
tasajo
), chili seasoned pork (
cecina
), or sausage (
chorizo
.) The
tlayudas
at El Mirador are among the best. The
parrillada:
a hibachi-type BBQ arrives at your table, coals still aflame so as to complete the grilling of an impressive array of Oaxacan meats and vegetables including
nopal
(tender cactus paddle) and onions, sizzling with
quesillo
(Oaxacan string cheese). It's accompanied by tortillas, guacamole, salsa, and a saucy bean and
salchicha
side dish known as
charros
. If you opt for this meal, go easy on the appetizers, perhaps with just a meatless
tlayuda
to start.
El Mirador offers casual, moderately priced dining … or an opportunity to get out for a cappuccino or drinks with light snacks. Downstairs there's a 25 peso cover when the band plays.
Carr. Internacional KM. 3 S/N, Cerro del Fortín, Oaxaca.
Tel: 51-6-58-20
Arlene Starkman together with husband Alvin operates Casa Machaya Oaxaca Bed & Breakfast ( www.oaxacadream.com ). Arlene is an English teacher, psychotherapist and occasional restaurant critic.