GUADUA RESTAURANT
Puerto Escondido:
Oaxaca Restaurant Review
Guadua ranks arguably as the best restaurant and bar in Puerto Escondido in terms of both ambiance, and quality and creativity of fare. In fact for this reviewer it's a full notch above the rest.

The restaurant's designer has done an impeccable job of creating an atmosphere fitting a bistro on the beach, yet with class and subtlety, and a conspicuous lack of that all-too-prevalent and overpowering nautical paraphernalia. No walking over an arched mini-bridge onto these sturdy hardwood planked floor boards. With its full open concept, there's nary a wall to hang a dolphin, a net, or an oversized photo of the owner's big catch. While structurally a palapa, the configuration is more than simply functional cross beams and uprights supporting palm leaf; posts are erected at aesthetically pleasing and unusual angles, worthy of note in Architectural Digest. Lighting, while somewhat dim for late night dining, is provided by bulbs dangling inside smartly strung patterned burlap balls.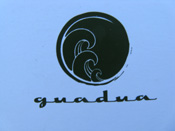 Waiters are quick to welcome, take your drink order and arrive back with a basket of warm, multi-grain hand-sliced loaf. The recorded music is tasteful Latin-style new age, but only until the fifty-something Cuban-born troubadour sets up with his companion off to a corner to serenade with familiar soft rock and the odd Spanish tune. Otherwise there's the sound of the surf, the sand virtually at your feet and ocean merely yards away.

Our first appetizer was tuna timbal with couscous, consisting of chilled and properly fluffed couscous lightly tossed with cucumber, purple onion, avocado and diced fresh tuna marinated in garlic ginger soya sauce. Each ingredient retained its distinctive flavor. The soya was used sufficiently sparingly so as to not overpower. Equally impressive for its ability to showcase each component was the eggplant bruschetta … a purée with roasted tomato, melted Roquefort and homemade mayonnaise, over the requisite thick rounds of toast.


The seared white fish baked in rosemary butter was prepared to perfection, and arrived with sides of salad and mashed potatoes. My long pasta with parmesan and cream cheese with cracked cardamom was cooked to the optimum degree of doneness, but required a bit of doctoring to bring out the Indian spice. The tuna loin lived up to its "rare on the inside" billing, often a struggle to achieve when dining in southern Mexico. Once again the marinade, a teriyaki, was well understated.
We completed our dinner with snifters of Torres 10 brandy, and shared the lemon pie frozen to perfect consistency, with hibiscus flower coulis, and then a personal size dark chocolate cake filled with melted white chocolate, accompanied by vanilla ice cream and cacao brandy sauce.
The menu selections at Guadua cover all the usual bases, so there's little if any likelihood you'll have difficulty finding offerings which call out to the palate. But the expected ends there. Whether it's the guacamole with grasshoppers or grilled vegetables with balsamic vinegar from the appetizer selection; arugula salad mixed with slices of parmesan, fig and lemon olive oil vinaigrette; a burger or baguette; tomato dill soup with sautéed shrimp; a filet mignón basted with green pepper brandy cream sauce; or the more standard seafood selections, each is accented with its own Guadua touch.

With tip and taxes included, the appetizers, soups, salads and lighter fare range from 60 to 110 pesos; and entrées from 120 to 180 pesos. In Puerto Escondido, Oaxaca, that's hard to beat!

Guadua
Tamaulipas esq. con Zona Federal
Col. Brisas de Zicatela
Puerto Escondido, Oaxaca
Tel: (954) 107-9524


Alvin Starkman together with wife Arlene operates Casa Machaya Oaxaca Bed & Breakfast ( www.oaxacadream.com ). They provide guests with a unique Oaxaca accommodation style which combines the service and comfort of a Oaxaca hotel, with lodging style characterized by quaintness and personal touch. Alvin received his masters in social anthropology in 1978, and his law degree in 1984. Thereafter he was a litigator in Toronto until taking early retirement. He and his family were frequent visitors to Oaxaca between 1991 and when they became permanent residents in 2004. Alvin reviews restaurants, writes about life and cultural traditions in Oaxaca, tours couples and families to the craft villages, ruins, towns and their market days and other sights, and is a special consultant to documentary film production companies.