Oaxaca Culinary Tour

, part two:
Wednesday through Saturday

Alvin Starkman, M.A., LL.B.
(Article archive)

Wednesday

Most participants had arrived by Wednesday, late afternoon, in time for Pilar Cabrera's walking tour of downtown sights. This enabled group members to gain some perspective on the magic of Oaxaca and to begin planning to how they might want to spend the leisure hours built into the tour.

Dinner was at Oaxacan institution La Olla, Pilar's own restaurant. The large candlelit table on the roof of the restaurant provided a special view of Oaxaca at night.

[For analysis and critique of the food served at these more upscale establishments, I'll leave it to the food writers and critics on the tour who are better note-takers and possess greater objectivity and a much more refined palate than this writer.]

Thursday

The morning began with a visit to Tlapanochestli, the research station, museum and teaching facility devoted to understanding cochineal (cochinilla), the tiny insect which has played an integral part in the history of Oaxaca because of its unique quality; when dried and crushed it yields a strong red dye, which with the addition of lime juice and or baking soda changes to tones of orange, pink and purple. Of particular interest for tour participants was its application as a natural colorant for restaurant foods. While sampling a refreshing gelatin / water / sugar based dessert colored with cochineal, our foodies had an opportunity to see familiar grocery store products dyed with the insect (Campari, Danone Yoghurt, Campbell and Knorr soups, make-up and lipstick) and briefly discussed the sensitive issue of adequacy of ingredient labeling.

Then off to San Bartolo Coyotepec in the comfy 18-seater van equipped with bucket seats and A/C. Don Valente Nieto, son of the famed ceramicist Doña Rosa, provided an upbeat, informative and entertaining demonstration of the methods used by his parents and his family members today, in fashioning the well-known folk art form known as barro negro (black pottery). Tour members can now rightly claim that they saw the same demo that Don Valente provided to Jimmy Carter and Nelson Rockefeller, who's photos alongside Doña Rosa and Don Valente grace the showroom walls.

The humble abode and workshop of Armando Lozano, sculptor and master jeweler of hand-made bronze necklaces, earrings and bracelets, provided the first opportunity for the group to see how most Oaxacans live, and eke out a modest existence. The contrast between the quality workmanship of the family, and its lifestyle, was remarkable, overshadowed only by the welcoming nature of the Maestro's daughter-in-law who offered the jewelry for sale.

The final two touring stops of the day were directly devoted to food and drink. Lunch was at the unique roadside eatery, Caldo de Piedra, where chef César prepared a tomato and herb based broth which he then poured into a large half gourd for each diner. To each he then added one's choice of either fresh red snapper, a healthy compliment of jumbo shrimp, or a combination of the two. Red hot rocks from an open flame were then placed in each gourd, and individual meals were thusly cooked, the rocks causing the broth to boil and fish to poach. Only large, hand-made tortillas from the comal and quesadillas amply filled with mushrooms and squash blossoms were needed to compliment the meal, of course along with large pitchers of freshly squeezed orange juice spiked with soda water (naranjadas).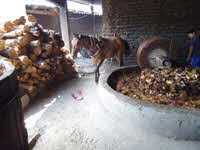 Oaxaca is known for its mezcal (mescal), so what better way to have an introduction to the spirit than to head to Matatlán, World Capital of Mezcal, and learn from a producer with from a five generation pedigree of palenqueros (mezcal producers). Enrique Jiménez welcomed the tour into his parents' traditional family compound where all witnessed the quaint and primitive production methods, and then imbibed several varieties of mezcal with chasers of lime and orange wedges, and sal de gusano (the salt, chile and ground up gusano worm mixture), together with quesillo and ricotta-like queso. Then to the family's brand new state-of-the-art facility where Enrique explained his new method of mezcal production. The process dramatically improves quality control while retaining the richest qualities of mezcal produced the traditional way – only smoother.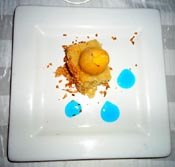 Dinner at La Catrina de Alcalá provided a nice contrast to earlier events and tastings in the day, with classy Chef Juan Carlos on hand to introduce each dish. Tour participants were so taken with the selection that towards the end of the evening when asked if they wanted to move on to dessert, or perhaps try a venison dish, almost in unison each opted for the latter.
Friday

Cooking classes by Pilar Cabrera are always highly enjoyable and educational, beginning with a visit to Mercado de La Merced for buying fresh produce, through the cooking phase, and finally indulging in the fruits of one's labor. The entirely of the class has been described elsewhere by me, so no more will be noted.

Each tour participant thereafter had a free afternoon to explore more of downtown, rest, and then dine at a recommended restaurant.

Saturday

After a relatively relaxing Friday it was back on the road for another day of touring. At the handmade knife and cutlery workshop of Apolinar Aguilar, the group watched the master work his wonders, heating recycled metals with the aid of a primitive yet effective stone and mud oven, then forging with only a mallet striking the red-hot metal over an anvil, and finally the all-so-critical tempering stage.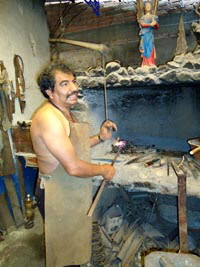 Knife blades are polished to a brilliant shine without lacquer or nickel. Purchasers on this day had an opportunity to have inscriptions engraved on the blades of knives they purchased. In anticipation of the culinary tour, Apolinar had prepared a selection of paring knives, a turkey carving set, a cake cutting ensemble, and bread knives. In addition to the more traditional Bowie hunting knives, swords and machetes, he also had on hand more unusual collector pieces such as knives with deer antler handles and letter openers with blade undulations of the Indonesian genre.

In the tiny village of San Antonino participants were provided with an opportunity to select from the finest imaginable hand-embroidered blouses and dresses – cotton, silk, and blends.

Lunch was in the rustic homestead of the Navarro family, the sisters and mother known for their fine work on the back strap loom, and brother Gerardo for his watercolors. But the main reason for stopping in Santo Tomás Jalieza was to dine with the family in their Eden-like surroundings, and witness their preparation of tasajo on a small hibachi-style grill, and all the steps required to make sopa de guias, a broth made of all the parts of the zucchini plant, and a small piece of corn for added starch. The welcoming nature and all-round hospitality of the family was as impressive as their simple yet immaculately kept rural home and grounds.

The tour day concluded with a visit to the workshop of Jacobo Angeles, master carver and painter of alebrijes, for a demonstration (the particulars and details of which are once again available online as part of a lengthy dissertation about woodcarving in Oaxaca). However what tourists to the region never get to experience, and what Jacobo had arranged for the group, was a lesson in making aguas frescas of limón and jamaica (hibiscus flower), and the pre-Hispanic drink tejate, known as the "drink-of-the-gods."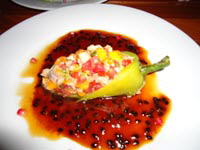 After a late afternoon rest back at Las Bugambilias Bed & Breakfast, the group welcomed the leisurely evening walk to Casa Oaxaca, purportedly the best high end restaurant in Oaxaca. Unfortunately on this night chef / owner Alejandro Ruíz was somewhat preoccupied entertaining a group of visiting chefs from diverse Latin American cities, so in this writer's opinion the experience was somewhat disappointing. Word has it that for the next culinary tour the organizers might pass on Casa Oaxaca unless an acknowledgement of the shortcomings and an assurance of better next time are both forthcoming. Each and every participant in a culinary tour of Oaxaca should expect and receive nothing but the best, of course subject to unforeseen circumstances.
< Page 1 Page 3 > Sunday, Monday & Future Culinary Tours