RURAL OAXACA MEZCAL PRODUCTION
Part I:
Focus on Hilarino Olivera Cruz

The rural mezcal producers of Oaxaca keep the tradition as pure as it was centuries ago. They pepper the villages and roadsides where tourists rarely venture. Their operations are a far cry from those of Benevá, Oro de Oaxaca, the brands of the Chagoya family, and the few designer labels vying with one another to corner the Manhattan sipping market.
Hilarino Olivera Cruz has a small fábrica de mezcal (mezcal - or mescal - "factory") near his hometown village of San Lorenzo Albarradas, about an hour and a quarter drive from the city of Oaxaca, en route to Hierve el Agua. But he and his wife María Sara don't just produce mezcal. They can't afford to rely on distilling alone to eke out their modest, working class existence. Out of the same premises they operate a tiny restaurant, El Tigre, without the benefit of electricity, employing their daughter-in-law Alma; María Sara also has a door-to-door Avon-style sales business from which she earns perhaps $50 or $70 a month; Hilarino together with their eldest son Claudio, Alma's husband, run a dump truck; and as is the custom with most cottage industry and craft producing families, they have their fields of milpa to tend, yielding corn for making tortillas, tamales and like products used to provide for personal consumption, and in the case of the Olivera family, also for restaurant use.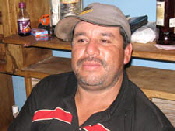 On the one hand hard working mezcaleros such as Hilarino are not permitted to export commercially, since they are not members of the regulatory body known as COMERCAM, yet on the other they struggle to maintain the artisanal, or pure, traditional hands-on nature of production, and resist the adulteration of their spirit through modern processing methods including the use of chemical additives … for everyone's benefit.

You won't find Hilarino flogging his mezcal in downtown Oaxaca with the aid of heavily made-up, attractive, smiling teenage girls offering free tastings. Nor will you encounter him when taking a Sunday tour bus to Mitla or Tlacolula, and sauntering up to a fine oak bar for samples of cremas (sweet, mezcal-based products), jovens (un-aged mezcal) or what's represented to be five or ten-year-old añejos. The photo op that's provided will appear quaint enough, but won't come close to revealing the true history of the tradition, or the present reality of the struggle of the rural producer.

Hilarino's market is not the tourist trade, but rather residents of Oaxaca, Mitla, the nearby Mixe region, and of course his own community. The same as it was for his great-grandparents: "I remember the stories my parents and grandparents would tell, about how it actually was way back then," Hilarino reveals. "They were campesinos. They would harvest mainly wild agave known as tobalá. A caravan would set out, comprised of perhaps 10 or 15 mules or donkeys and an equal number of people helping out. Cousins, aunts and uncles would organize themselves and take the mezcal on what would be like a trade route, in pottery or metal receptacles, down into the valley and up throughout the mountains. Each animal would carry 3 containers, one on each side and another on top. My relatives would be gone for anywhere between a couple of days and two weeks, often returning home with 2 or 3 less mules … that's how hard the journey was. Of course now it's much easier."

Easier is a relative term. Then it took two or three days to pulverize the baked agave prior to fermentation, hammering it with a wooden mallet made of tree burl. Now it's crushed by a horse or mule reluctantly pulling a multi-ton limestone wheel over it for a couple of hours, persuaded with the assistance of a crop-like piece of leather, or simply a stick … and then it's time for the next batch.
Hilarino began learning how to make mezcal when he was about seven years old. Out of economic necessity he moved with his family to Mexico City at age 11, and remained there for the next 15 years. Upon return to Oaxaca some 14 years ago he built and opened his current facility, the mezcal operation with adjoining eatery. Initially his father worked the business with him, but about four years ago the elder Olivera opened up his own restaurant beside his son's, and since then they've been competitors of sorts. Hilarino explains: "But my father can't produce mezcal on his own, since I'm the one with the equipment (clay and brick still with copper attachments, pine fermenting vats, limestone wheel and ring for crushing, and beast of burden), so when he has a batch of agave he wants to process, we work out an arrangement for him to use my production facility." In fact one of Hilarino's brothers does the same thing, buying agave and renting Hilarino's premises to produce, and then selling to his own customers. Occasionally others from the village make similar arrangements with him.

Hilarino distills roughly 500 liters of mezcal a month. His average sale is about 5 liters. He has a few different pieces of land upon which he grows 5,000 plants, with exclusively the espadín variety of agave under cultivation. At least 90% of the mezcal produced in the state is espadín, the rest comprising mainly wild varieties.

The agave on Hilarino's fields is sufficient to service his regular trade. But occasionally an out-of-state client will request a large quantity of mezcal, perhaps 800 – 1,000 liters. "When this happens," he confesses, "I have to go out and buy mature plants from a neighbor, since I simply can't harvest my agave whenever a special order comes in. I have to wait those 8 – 10 years until the plants in a particular field are ready to be harvested." But the finished product maintains its quality and character, since Hilarino remains the producer, using his own equipment and particular recipe, and the agave, albeit not from his own fields, comes from the same San Lorenzo Albarradas micro-climate.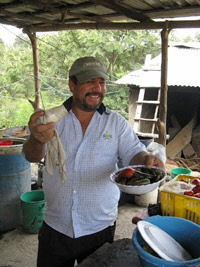 It's such cooperation between local producers, together with a united voice, which is required to ensure that small-scale, traditional production of quality mezcal continues. To this end Hilarino has recently joined the ninety-member association, Fabricantes y Expendedores del Tradicional Mezcal Oaxaqueño A.C. Its function, at least in the estimation of Hilarino, is to maintain the artisanal nature of the industry; resist the move towards increased industrialization and the ability of large producers to label any spirit produced with or containing additives, as mezcal; and provide small producers with an opportunity to have their products exposed to and promoted in a wider marketplace.

But the reality is that the big producers and exporters of mezcal in Oaxaca need the mom and pop operations much more so than the latter need the former. Why? Because the little guy will undoubtedly continue to survive by selling his mezcal in his local market, using the centuries old production technique, while the exporter relies on that age old tradition for his marketing … and it's kept alive not through his 21st century innovations and "improvements" to productions methods, but rather by the Hilarinos in the state.

Alvin Starkman received his Masters in Social Anthropology in 1978. After teaching for a few years he attended Osgoode Hall Law School, thereafter embarking upon a career as a litigator until 2004. Alvin resides in Oaxaca, where he writes, leads personalized tours to the villages, markets, ruins and other sights (including into the mountains for mezcal tastings and learning about traditional production methods) , and operates Casa Machaya Oaxaca Bed & Breakfast. ( www.oaxacadream.com ), combining the comfort and service of a Oaxaca hotel with the lodging style of a quaint country inn.