Food In Mexico: Visit The Local Molino (Mill) In Oaxaca For A Cooking Class
Alvin Starkman, M.A., LL.B. (Alvin's archive)
There's no substitute for a good cooking school in Oaxaca. But during your vacation consider a visit to any molino which serves customers needing a broad variety of foodstuffs milled. If not an outright lesson in cooking techniques and food in Mexico, the experience teaches novice cooks, students of Oaxacan gastronomy, and even chefs, a different approach to the preparation of Mexican cuisine.

PART I: NOT ALL MEXICAN MOLINOS ARE CREATED EQUAL
From its exterior the molino at Calle Porfirio Díaz 710, downtown Oaxaca, is as non – descript as could be; an open doorway on one half of a narrow, neatly painted powder blue building, with a laundromat occupying the other side. The mill has no name or other outside markings even hinting at its interior functioning; the churning out of some of the best milled food ingredients in all Mexico.

Using a diversity of different machines, some of which are dedicated to milling only one ingredient, this molino churns chiles for making chorizo and other typical Mexican meat mixtures, purées beans, liquefies aguas frescas (fresh fruit juices), mixes mole ingredients, and of course mills cacao for chocolate and corn for tortillas.
Opening before 7 a.m. and closing its doors at 5 p.m., one can come by for any type of milling at any hour of the day. By contrast, many molinos, particularly in the pueblos, have times for grinding different ingredients. For example a town mill with a brisk corn business might open its doors at 5 a.m. for the queued up tortilla, tamale and tejate crowd anxious to get breakfast under way; but the cacao molinos might not be operational until several hours later, once the morning rush has run its course.
Most Oaxaca city molinos which specialize in chocolate such as La Soledad and Mayordomo, often have an extensive lineup of mills dedicated to the two stages of the cacao, almond, cinnamon and sugar grinding process. But they also have a couple of other macerating machines just to service a select clientele; the owners of nearby market restaurant stalls who need ingredients prepared for making moles, black bean mixes and other eatery fare.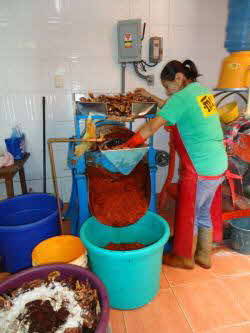 Molino 710 services restaurants, caterers and householders, from around the corner, across the city and throughout the suburbs; as well as both shoppers and vendors from the adjacent Sánchez Pascua market. The mill's strategic location in front of the market, yet only a minute's drive from both the heart of downtown and Oaxaca's main east-west thoroughfare (Niños Héroes de Chapultepec), reveals only half the story of its success.
One would be hard-pressed to find another general purpose mill with higher standards of care for sanitary conditions and cleanliness. The floor is continually scrubbed with a squeegee; mills are washed down after each use to ensure not a hint of one client's negro finds its way into another's verde. As custom dictates, preparations which will ultimately end up cooking on the stove, comal or grill are mixed with tap water. However at Molino 710 there is also a separate mill with a purified water system. It's used for grinding ingredients which will not be cooked, such as those used for making horchata, one of several aguas frescas.

PART II: SPEND AN HOUR OR TWO OF YOUR VACATION AT A REPUTABLE MEXICAN MOLINO; EXPERIENCE OAXACAN CULTURE, LEARN TO COMBINE INGREDIENTS & COOK LIKE A MEXICAN
We arrive at the molino at 1 p.m. with a large plastic bucket of fried, seeded chiles – mulato, pasilla mexicana and chilhuacle – and a smaller bowl with more than 20 other ingredients, some raw others roasted; everything for the recipe which must be ground. Chef Pilar Cabrera Arroyo is preparing a batch of mole negro paste to be packaged for sale in La Olla, her popular Oaxacan restaurant, or offered to students at her Casa de los Sabores Cooking School. Today I'll learn from everyone but Chef Pilar. I'll watch, ask, smell, then ask again to be sure, and as a last resort confirm with Chef Pilar that I finally got it right.

Several Oaxacans, mainly women, are in queue to have their beans, their chiles for making chorizo, mole and salsa ingredients, and of course their corn, all crushed to their exacting specifications. They are generous with their knowledge, advice, and secrets passed down to them through the decades by their mothers, grandmothers and great grandmothers. They patiently await their turn, often the better part of an hour, longer if fiesta time is approaching. Accordingly, these connoisseurs of the craft of the kitchen have all the time in the world to impart their generational gems of knowledge.

A woman sits waiting to have a rather small batch of mole verde ingredients milled. "Why bring this here when you can easily grind it at home in a blender," I ask. Her retort is more complete than I expect:

"Using a blender I lose some of the mix because it doesn't grind it completely, the way I like it, and I then have to put it through a sieve and discard the little pieces. The mill grinds it all, and I end up with the texture I want. The stone wheels in each of these mills are made with volcanic rock, so I get the texture I used to get years ago with the molcajete [mortar and pestle]; and let me tell you, the flavor is different grinding with stone rather than a metal blade and plastic or glass blender jar."

I next ask a youngish señora waiting to pay for having three buckets of boiled beans blended, why one of her mixtures is thicker than the rest, and about the ingredients used to make bean purée. This reply is just as clear and complete as the last:

"For the beans to make enfrijoladas I want the texture lighter, looser you can say, meaning more water is added to the beans as they're being ground. I know the lady working the machine. She'll just ask if I want them for the enfrijoladas or to use as an accompaniment for barbacoa or other main dishes, and she knows immediately how much water to add."

"And what about the ingredients," I ask. She continues:

"Well, I always use onion, chile de arbol to give it a bit of a bite, and either avocado or poleo leaves. But look at how small the avocado leaves are; they're criollo, not from commercial avocado trees. It makes a huge different, gives the beans a nice hint of anis; that's why we use avocado. But if I want a mild minty flavor instead, I use hoja de poléo [leaf of pennyroyal], a medicinal herb often made into a tea to resolve stomach problems. But here we use it to flavor beans."

Before beginning to mill a batch of corn, the worker alongside the machine asks if the customer wants the corn for tortillas or tamales. After being told it's for tamales she begins grinding, then hands her patron a sample to try, just to be sure the consistency and texture are right. Different Oaxacans make tamales with different textures. The customer is new to the mill so the miller wants to be sure to get it correct.

I question three or four other women about their mixes, and receive equally comprehensive answers. Finally it's Chef Pilar's turn with her own two batches of mole negro ingredients. She's taught me before, so I don't have to ask why it's not all milled together at the same time, how to bring out the flavors, or the importance of the perfect texture. Anyway, the most I could ever hope to learn in one short lesson is but a fraction of what she's been taught about food preparation in Mexico, by her own grandmother while growing up in a traditional Oaxacan household.

I'll never learn it all, but the combination of taking Mexican cooking classes, and going to the mill in Oaxaca to watch, and to ask, sure helps.

Alvin Starkman operates Casa Machaya Oaxaca Bed & Breakfast (http://www.casamachaya.com) with his wife Arlene, and Oaxaca Culinary Tours (http://www.oaxacaculinarytours) with Chef Pilar Cabrera. Alvin takes couples and families into the central valleys of Oaxaca to visit the sights. He is a mezcal and pulque aficionado. A paid contributing writer for Mexico Today, a program for Marca País – Imagen de México, Alvin has written over 230 articles about life and cultural traditions in Oaxaca, including several restaurant and cooking school reviews.