History: Oaxaca National Mezcal Festival page 2:
Alvin Starkman, M.A., LL.B. (Alvin's archive)
Feria Nacional Del Mezcal In Oaxaca In Historical Context
Initially Mexico's national Feria del Mezcal was a small tasting and promotional exposition. Organizers wisely arranged for it to coincide with the yearly Guelaguetza festivities in Oaxcaca, the last two weeks of July. The Guelaguetza is a celebration of the multiplicity of cultures represented in the state. The mid-summer merriment is filled with unrivalled pageantry and a diversity of dance, costume, music, food and other indicia of the rich cultural traditions for which Oaxaca is known. Hence, at this time of year Oaxaca becomes a Mecca for tourists visiting from all corners of the globe.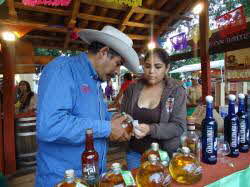 In the early years the Feria consisted of small booths set up by individual mezcal producers, each offering free samples of at least a couple of different varieties of the spirit. Most palenqueros employed provocatively clad and well made-up young women to lure prospective purchasers towards their stands; sex sells alcohol as much in Mexico as elsewhere. But it's always been good clean fun and imbibing. However business owners along Calle 5 de Mayo, the street where the kiosks were erected, complained of a little too much rowdiness, especially for the likes of those tourists lodging in nearby higher end hotels.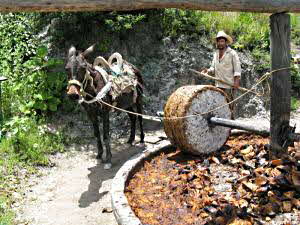 At the same time that mezcal's star began to rise, organizers started looking for ways to address this concern, and at the same time create an event which would attract a more diverse demographic than previously; both men and women of all ages, residents and tourists alike from a broad range of socio-economic backgrounds.

The venue vacillated between a theater and convention center known as √Ālvaro Carrillo (too far away from the center of downtown to attract the desired crowds), the north end of Oaxaca's famed pedestrian walkway Macedonio Alcal√° (too narrow and restricted in terms of bringing other attractions into the fold), and the largest park in downtown Oaxaca, Paseo Ju√°rez el Llano. In the end, one of its earlier locations, el Llano, won out over the rest. It's an easy walk from most downtown hotels and guest houses, and a 10 – 15 minute drive from the popular north and east Oaxacan suburbs. It would be the fair's permanent home. In 2011, for the first time the event occupied the entire two-city-block park.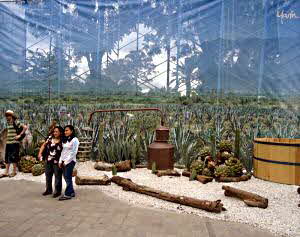 While the number of participating producers did not significantly increase over recent years, the variety of product has, with many more cremas (sweet mezcals) than previously, intended to attract more women (arguably an inaccurate stereotype) as well as others who are not regular spirits drinkers. More aged mezcals from different regions were represented, as were herbal infusions and the odd mezcal made from a different variety of agave.

When the Feria was first instituted there was no entrance fee, perhaps contributing to the initial problem. Then a ten peso entry fee was levied in part in an effort to dissuade some attending solely for the purpose of getting free drinks. While it now costs 35 pesos to attend the Feria Nacional del Mezcal, visitors to the festival get much more than their money's worth; the festival now satiates all the senses.
NEXT: page 3 (End): 14th Feria Nacional Del Mezca
Previous: page 1 Mezcal Primer .