Chapulines in Oaxaca, Mexico:
Recipe & Primer
Healthy Protein-Rich Food
Alvin Starkman, M.A., J.D. (Alvin's archive)
Grasshoppers, more popularly known as chapulines here in the southern Mexico state of Oaxaca, are one of the most popular snack foods enjoyed by residents. Although they are available year round, in particular throughout the central valleys and in the city of Oaxaca, chapulines are best eaten when they are in season during the summer and autumn months when crops and grasses are tall as a result of the rains, thus providing ample nourishment for the insect.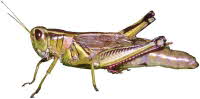 Chapulines are frequently consumed on the street when purchased from vendors in or near Oaxaca's markets, or from itinerate saleswomen plying their product to passersby on the sidewalks and pedestrian corridors in downtown Oaxaca. However they are also a popular menu items in both middle-of-the-road and high end restaurants not only in Oaxaca but in other parts of Mexico.

Chapulines are usually served in Oaxacan restaurants as part of a mixed appetizer plate along with one or two locally produced cheeses, Oaxacan sausage (chorizo), spiced peanuts and crackling pork fat (chicharrón). At fiestas, from the most humble rural function to the most lavish high class event, a mixed botana plate which includes chapulines is commonplace, often expected, and always enjoyed. The high protein high jumper has also become popular as an ingredient in more upscale Oaxacan recipes, such as in dips and stuffing.

Harvesting Chapulines in Oaxaca, Mexico
Grasshoppers tend to be harvested in the fields of Oaxaca either early morning or late afternoon. While more sophisticated operations call for the use of nets, small-scale family collecting is usually done by swooping a wicker or synthetic basket over the fields of green. Early in the season they are gathered from areas where herbs and grasses grow, then later or once the little critters have grown a bit bigger they are found nourishing themselves around crops such as corn and squash. Commercial production often uses alfalfa as a feeding ground for chapulines.

With the large operations there is less likelihood that insects other than grasshoppers, and unwanted grasses and small leaves will find their way into the nets. The same holds true of small scale production later in the season when they are harvested from amongst vegetable crops. It's small scale early season harvesting of chapulines which results in the occasional trapping of other small creatures such as larvae, locusts and other unwanted guests as well as thistle, small weeds and leaves. When this does in fact occur more attention is required when preparing a chapulín recipe.

Epazote is a key ingredient in preparation of chapulines
Recipe for Chapulines in Oaxaca
One of the Most Popular and Healthy Snack Foods in Mexico.
This recipe, as is the case with many others which have been formulated in Oaxaca, is based on local tradition which pays little attention to exacting measurements.
Ingredients:
1 pound of live chapulines, any size, or small local grasshoppers
Several garlic teeth (cloves), ground in processor or molcajete with a couple of tbsp of course salt
Juice from a few good size limes
A half bunch of (preferably) fresh epazote

Preparation:
1. Bring water to a boil, then add chapulines

2. Return to a boil, then simmer a few minutes at least until the chapulines are red

3. Drain chapulines without adding additional water to the sieve

4. Lay out on a large platter and remove any grasses, and foreign insects and what not

5. Place drained chapulines in saucepan over medium heat, stirring for a minute or two

6. Add garlic mixture and lime juice, returning to a low simmer

7. Add epazote leaves and thin stems

8. Continue over low heat until epazote is no longer green

9. Drain and place in bowl

10. Serve with tortillas or use as an ingredient in other recipe
NOTE: Since I have never tried this recipe with any insect other than chapulines from Oaxaca, Mexico, I'm uncertain as to whether small Canadian or American grasshoppers will turn red or have as agreeable a flavor. Regarding the latter, it all depends on the chapulín's diet, climatic conditions and other environmental factors.

Alvin Starkman together with his wife Arlene operates Casa Machaya Oaxaca Bed & Breakfast (www.casamachaya.com). He is also a partner in Oaxaca Culinary Tours (www.oaxacaculinarytours.com) with Chef Pilar Cabrera. Alvin assists visitors to the central valleys of Oaxaca to plan their vacations. He is an avid aficionado of mezcal and pulque.