VEGETABLE AND HASS AVOCADO SAUTÉ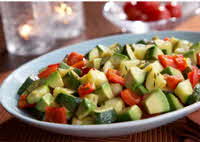 Serves: 4
Ingredients
• 1 ½ Tbsp. avocado oil or olive oil
• 2 tsp. garlic cloves, finely chopped
• ½ large shallot, finely chopped
• ½ Tbsp. fresh thyme leaves
• 3 zucchini, cut in half lengthwise and sliced ¼-inch thick
• ½ red bell pepper, cut into 1-inch squares
• 1 Tbsp. grated lemon peel
• 1 ½ Tbsp. fresh lemon juice
• 1 ripe fresh Hass avocado*, halved, seeded, peeled and cut into chunks

Instructions
In a large skillet, heat oil over medium-high heat. Add garlic, shallot and thyme, sauté for 3 minutes.

Mix in zucchini, bell pepper and lemon peel, stir and cook for 2 minutes. Lower heat and cover, cooking for 3 minutes.

In a small bowl, combine lemon juice with avocado. Add to skillet and gently mix. Cook for 2 minutes to allow flavors to blend.
*Large avocados are recommended for these recipes. A large avocado averages about 8 ounces. If using smaller or larger size avocados adjust the quantity accordingly.

About the Hass Avocado Board
The Hass Avocado Board (HAB) was established in 2002 after approval by producers and importers of Hass avocados in a national referendum. A 12-member Board administers the program. Over 20,000 producers and 100 importers are involved in the HAB, which covers fresh domestic and imported Hass avocados sold in the U.S. market.