Sweet & Sour Vegetable Stir Fry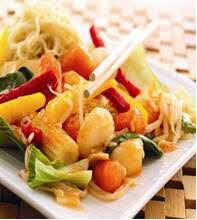 A Canned Food Week UK recipe. When you've got a family to feed, you need a filling meal that will keep your small army going, but one which will also go a long way without breaking the bank. Myfamilyclub.co.uk, a money saving site for families with over a quarter of a million parents visiting each month, think the Sweet & Sour Vegetable Stir Fry recipe is ideal, as it's easy to make a large quantity and costs less than £1.50 per serving.
Serves: 6
Preparation Time: 5 minutes
Cooking Time: 10 minutes
Ingredients
· 4 tbsp groundnut oil
· 4 spring onions, chopped
· 1 red pepper, deseeded and thinly sliced
· 1 green pepper, deseeded and thinly sliced
· 1x 220g can baby corn, drained
· 1x 220g can water chestnuts, drained
· 1x 410g can berlotti beans, drained
· 1x 220g can bamboo shoots, drained
· 1 x 300g can baby carrots, drained
· 2 Pak choi, sliced and rinsed
· 1 x 500g can sweet and sour sauce
· serve with noodles or rice
Method
1. Heat 2 tbsp of oil in a large frying pan or wok and stir fry the spring onions for 2 minutes. Add the peppers and stir-fry for a further 3 minutes.

2. Stir in the remaining vegetables and stir-fry for 4 minutes.

3. Add the sauce and heat gently until all the ingredients are heated through.

How to serve: Serve immediately with noodles or rice.
Canny Tip
Mix and match fresh and canned ingredients to make this quick, easy and healthy dish.
Nutritional value per serving
· Calories: 180
· Carbohydrates: 22.2 g
· Protein: 5.5 g
· Fat: 8.2 g
· Saturated fat: 1.7 g
· Fibre: 5 g

Canned Food UK will be running the 2nd Canned Food Week April 14-20, 2014. (www.cannedfood.co.uk/cannedfoodweek)