STEAK & VEGETABLE SKEWERS WITH SOY-GINGER MARINADE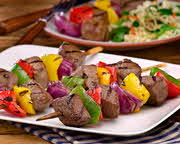 Expert's note: While most marinades work best with an overnight soak, this high intensity soy-ginger combination will do the job in 1-2 hours. Whether you choose rib-eye, fillet, sirloin, or New York strip, these steak and vegetable skewers will stretch your dollar while providing you with a signature charcoal grilled entrιe.
Difficulty Level: Medium
Makes: 6 servings
Prep time: 20 minutes, plus 2 hours for marinade
Cook time: 8-10 minutes

Ingredients:
• 2½ pounds steak, 1" thick
• 3 bell peppers
• 2 onions
• 6 skewers (if using wood skewers, soak in water)

Marinade
• 1 cup soy sauce
• 1 cup vegetable oil
• 1/2 cup brown sugar
• 1/2 cup sugar
• 3 tablespoons ground ginger
• 3 tablespoons vinegar
• 3½ teaspoons garlic salt
• 2 teaspoons lemon juice
• 3/4 teaspoon black pepper

Directions
Combine marinade ingredients and mix well. Cut onions and peppers into 1-inch pieces. Cut steak into 1-inch cubes. Divide marinade in half and marinate vegetables and meat in separate gallon-size GLAD® bags for 2 hours.

Remove vegetables and meat from the marinade. Place steak, onions, and peppers on the skewer while alternating varieties.

Build a charcoal fire for direct grilling. Grill kabobs over coals (approximately 450 - 500 degrees F) for 4-5 minutes on each side. Remove from grill and serve.

Recipe created by champion pitmaster, Chris Lilly, on behalf of Kingsford® charcoal