CRUSTLESS CURRIED SPINACH TART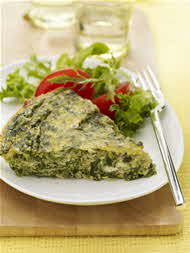 Ideal for a weekend brunch or light supper, this colorful tart will impress your guests. Surprise, it's also packed with antioxidants! Add whole wheat muffins and a fruit salad for a perfectly easy menu.
Prep Time: 10 minutes
Cook Time: 40 minutes
Makes 6 servings.

Ingredients
• 1 tablespoon olive oil
• 1 cup chopped onion
• 3/4 cup milk
• 2 tablespoons flour
• 4 eggs
• 4 egg whites
• 1 tablespoon McCormick Curry Powder
• 3/4 teaspoon Sea Salt using McCormick Sea Salt Grinder
• 1/2 teaspoon McCormick Garlic Powder
• 1/8 teaspoon McCormick Ground Red Pepper
• 1 package (10 ounces) frozen chopped spinach, thawed, drained and squeezed dry
• 1 cup part-skim ricotta cheese
• 2 tablespoons grated Parmesan cheese

Directions
HEAT oil in large nonstick skillet on medium-high heat. Add onion; cook and stir 5 minutes or until tender. Remove from skillet. Cool slightly.

MIX milk and flour in large bowl with wire whisk until smooth. Add eggs, egg whites, curry powder, sea salt, garlic powder and ground red pepper; whisk until smooth. Add cooled onion, spinach and ricotta cheese; mix well. Pour into 9-inch deep dish pie plate sprayed with no stick cooking spray. Sprinkle with Parmesan cheese.

BAKE in preheated 350°F oven 30 to 35 minutes or until top is golden brown and center is set. Let stand 10 minutes before cutting into serving-size pieces.

Nutrition Information Per One Serving:
194 Calories, Fat 10g, Protein 15g, Carbohydrates 11g, Cholesterol 163mg, Sodium 444mg, Fiber 2g

Recipe courtesy of McCormick® - Spices & Seasonings - www.mccormick.com/