POTATO RAJAS AND AVOCADO TACOS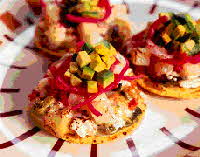 Makes 12 tacos
Ingredients:
• 3 medium potatoes, peeled and cut in 1/2-inch dice
• 1/4 cup extra virgin olive oil
• 2 medium onions, halved and cut in 1/4-inch slices lengthwise
• Salt and freshly ground black pepper, to taste
• 4 medium red bell peppers, roasted, peeled, seeded and julienned
• 4 medium Poblano or Pasilla chiles, roasted, peeled, seeded and julienned
• 1 cup heavy cream
• 3/4 cup grated Manchego or Monterey Jack cheese
• 2/3 cup grated Cotija, Romano or Parmesan cheese
• 24 small corn tortillas
• 3 ripe Hass avocados, halved, seeded, peeled and diced
• Pickled Red Onions (see the make-ahead recipe below)

Instructions:
1. Bring a medium saucepan of salted water to a boil and cook potatoes until just tender, about six to eight minutes.

2. Drain, pat dry, and spread in a single layer on a tray to cool.

3. Heat oil in a large skillet over medium heat. Sauté onions with salt and pepper until they begin to brown, about 10 minutes.

4. Stir in red bell peppers and chiles.

5. Pour in heavy cream, bring to a boil and reduce to a simmer. Cook four minutes or until cream begins to thicken.

6. Add cheeses and potatoes, stirring occasionally, until just heated through. Remove from heat.

7. Dip corn tortillas in water, shaking off excess.

8. Toast tortillas in a nonstick pan over moderate heat, about one minute per side. Cover toasted tortillas to keep them warm until use.

9. For each taco, stack two tortillas and top with potato rajas mixture, Pickled Red Onions and diced Hass avocados.

PICKLED RED ONIONS
Makes enough for 12 Potato Rajas and Avocado Tacos
Ingredients:
• 1 red onion, thinly sliced
• 1/2 cup white vinegar
• 1/2 tsp. cracked black pepper
• 1/2 tsp. cumin seeds, roughly chopped
• 1/2 tsp. dried oregano
• 2 garlic cloves, sliced
• 1 Tbsp. sugar
• 3/4 tsp. salt
• 1/2 beet, trimmed, peeled and cut into four wedges
Instructions:
1. Place onions in a medium saucepan and add water to cover.
2. Bring to a boil, remove from heat, drain and set onions aside.
3. Combine remaining ingredients in the saucepan. Bring to a boil, reduce to a simmer and cook 10 minutes.
4. Add onions and simmer an additional 10 minutes.
5. Transfer mixture to a container, cover and refrigerate at least a day before serving.

The Hass Avocado Board (HAB) was established in 2002 after approval by producers and importers of Hass avocados in a national referendum. A 12-member Board administers the program. Over 20,000 producers and 100 importers are involved in the HAB, which covers fresh domestic and imported Hass avocados sold in the U.S. market.