VEGETARIAN SOY PEPPER BOWLS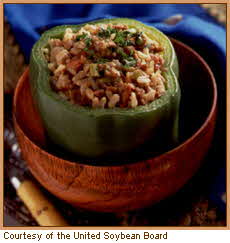 Makes 6 servings
Ingredients
• 1/2 cup chopped onion
• 2 cloves garlic, minced
• 1 teaspoon vegetable oil
• 8 ounces frozen all vegetable protein crumbles
• 1 cup diced tomatoes
• 1 cup water
• 1/3 chopped Anaheim chilies
• 1/2 teaspoon ground cumin
• Salt
• 1/4 teaspoon ground pepper
• 1 cup uncooked brown rice cooked according to package directions
• 6 medium green peppers
• Water
• Prepared salsa, optional

Directions
Sauté onion and garlic in oil until softened.

Add protein crumbles, tomato, water, chilies, cumin, 1/2 to 3/4 teaspoon salt and pepper; mix well.

Bring mixture to boil; reduce heat and simmer 15 minutes.

Gently mix in cooked rice.

Cut 1/2 inch off the stem end of peppers; remove seeds and membrane.

Bring water and 1 teaspoon salt to boil in large saucepan.

Cook in boiling water 3 to 5 minutes; invert on paper towels to drain.

Fill peppers with 3/4 cup of crumbles-rice mixture; place in 8-inch square baking dish.

Bake at 376° F 20 minutes or until thoroughly heated.

If desired, serve with salsa.

Nutritional Analysis Per Serving:
284 Cal., 24.4 g pro., 49.5 g carb., 2.5 g fat (7% Cal. From fat), 0.3 g sat. fat, 0 mg chol., 11.9 g fiber, 158 mg sodium, 20 g pro. from soy, 0.28 fat from soy.
This recipe meet the requirements of the FDA's health claim on soy protein, which states "25 grams of soy protein a day, as part of a diet low in saturated fat and cholesterol, may reduce the risk of heart disease." Foods that meet the health claim must contain 6.25 grams of soy protein and be low in fat, saturated fat and cholesterol
Recipe courtesy of the United Soybean Board
vegetarian recipes