Tofurky

®

Roast: Meat Free Thanksgiving Alternative
Vegetarians Embrace Thanksgiving Tradition in Record Numbers; Tofurky Roast Offers Meat-Free Alternative
(November 2008) Thanksgiving and Christmas are two of the biggest meat-eating holidays of the year. Where does that leave vegetarians at the dinner table?

For the over 2.5% of North Americans (about 5 million people) who now classify themselves as "true vegetarians," according to a Zogby poll commissioned by the Vegetarian Resource Group, there is America's original and best selling alternative to turkey, Tofurky.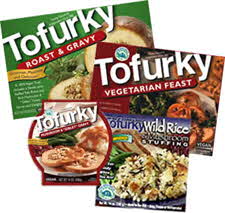 Turtle Island Foods is today's fastest growing meat alternative and the fourth largest meat substitute brand in the country. The company is gearing up for another holiday season having sold 275,634 Tofurky Roasts in 2007; an increase of 37%, the largest increase since 1999.

In addition to the Tofurky Roast, which is made with organic non-genetically engineered soybeans, Turtle Island Foods also provides a whole set of trimmings to accompany your bird-free feast.
• Eight Cranberry Apple Potato Dumplings
• Tofurky Giblet & Mushroom Gravy
• Herbed brown and Tofurky Wild Rice Stuffing
• Tofurky Jurky Wishstix
"Over the years, Tofurky has become a vegetarian Thanksgiving tradition. It's given vegetarians a bona fide holiday centerpiece that is all their own. They don't have to settle for second best anymore," said Seth Tibbott, CEO of Turtle Island Foods and creator of Tofurky brand products. "We're thrilled that more and more consumers are enjoying Tofurky each year; we are excited for this upcoming holiday season, and many more to come!"

Tofurky holiday products are currently available in most natural supermarkets and at select mainstream stores nationwide. Recipe ideas can be found at www.tofurky.com.

About Turtle Island Foods
The Tofurky brand, which is manufactured by Turtle Island Foods, an independent, family-owned business in Hood River, OR, is the fastest growing brand in the natural foods meat alternative segment, which includes such companies as Con Agra, Kraft and Kellogg's. Introduced in 1995 as a holiday alternative to turkey, Tofurky now has a line of award-winning sausages, deli slices, franks, breakfast links and Tofurky Jurky. All products are made from organic tofu and gourmet, non-genetically modified ingredients. More information on the brand can be found at www.tofurky.com.
----------