Progresso

®

Light Introduces More New Flavors, Reduced Sodium Soups, and Microwaveable Bowls
Now 14 varieties of Progresso Light with a POINTS® value of 0 or 1 per serving and the endorsement of Weight Watchers®
September 24, 2008 - Progresso Light, the first consumer packaged product in any grocery category to carry the Weight Watchers® endorsement with a POINTS® value of 0 per serving, is introducing nine new offerings that include chicken and beef varieties, reduced sodium options, and convenient ready-to-microwave bowls. With these new soups, Progresso Light now offers a full line up of 14 deliciously satisfying products with premium ingredients and flavorful seasoning blends.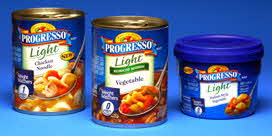 Four new canned soups contain chicken or beef and 80 calories or less per serving - at least 33% fewer calories than in regular ready-to-serve soup. Each has a POINTS® value of 1 per serving and is available in a variety of flavors, including Chicken Noodle, Chicken Vegetable Rotini, Beef Pot Roast, and Santa Fe Style Chicken.

For those soup lovers who want to reduce the amount of sodium in their daily diet, Progresso Light now has two delicious choices: Reduced Sodium Vegetable with a POINTS® value of 0 per serving, and Reduced Sodium Roasted Chicken & Vegetable with a POINTS® value of 1 per serving.



To satisfy the needs of people on-the-go, three new soups come in convenient and portable microwave bowls and are available in Italian-Style Vegetable, Vegetable and Noodle, and Homestyle Vegetable and Rice. With 100 calories and a POINTS® value of 1 per bowl, they are also a good source of fiber.

"Studies show that eating foods high in water content, like soup, can help curb your hunger for fewer calories," said Jeannemarie Beiseigel, PhD, RD, nutrition scientist, General Mills Bell Institute of Health and Nutrition. "These soups provide a better-for-you option as part of a quick, convenient, and more sensible meal during the day."

"We understand the challenge Americans face daily to eat healthier and exercise - the building blocks for successful weight management," said Kyle Duea, marketing manager, General Mills. "They're on the lookout for satisfying, great-tasting, lower-calorie foods that make it easier to maintain a healthy weight, whether it's in convenient packaging for eating on-the-go or reducing the amount of sodium. We noticed this trend with our line of Progresso Light soups since their launch last year, and wanted to support it with a full line of better-for-you soups. That's why we developed these nine new offerings - bringing more taste and convenience to these consumers."

Consumers can find the new Progresso Light soups in grocery stores nationwide beginning in September at a suggested retail price of $2.59 per 18.5 oz. can; microwave bowls will also have a suggested retail price of $2.59 per 15.25 oz. bowl.

About Progresso
The Progresso tradition began in 1905 when a young Sicilian, Vincent Taormina, began a small importing business to bring authentic Italian foods to Italian-American families. Driven by the wartime shortage of imported products, Progresso opened its original manufacturing plant in Vineland, N. J., where the company created the first Progresso premium soup in 1949, a minestrone based on an old family recipe. It was the first canned, ready-to-serve soup in America. Today, Progresso continues that tradition with more than 80 premium, ready-to-eat soups and broths including the newest line of light soups.
Progresso has grown to become the No. 1 ready-to-eat soup brand in America by using quality ingredients and adding new products like Rich & Hearty, microwaveable bowls and reduced sodium. It established a new health segment with the Progresso Light line for those concerned with weight management. Progresso continues to build on its rich history of flavorful products that delight the consumer. Progresso Light is a registered trademark of General Mills, Inc.
---------