Edward & Sons Introduces New Let's Do...Organic Black Licorice
Carpinteria, CA– November 2006- Edward & Sons Trading Co., Inc. is proud to announce that its new Let's Do...Organic® Black Licorice will be available starting in January 2007. Imported from Finland, these USDA certified organic candies are crafted from the finest natural and organic ingredients. The delicious zest of genuine licorice extract is combined with star anise seed extract to yield a uniquely refreshing flavor.

Enjoyed for thousands of years in China, Greece, and India, the sweet taste of natural licorice long ago prompted its use in delicious old world specialties. Authentic licorice delighted the taste buds of King Tut and inspired praise from Alexander the Great. The unmistakable flavor and rich history of authentic licorice continues to enchant millions to this day.
Edward & Sons Let's Do …Organic Black Licorice is available in two shapes and packages: A 7 oz box of Organic Black Licorice Chews has a suggested retail price of $3.69 and a 0.8 oz bar of Organic Black Licorice has a suggested retail price of $.69.

Other Edward & Sons Let's Do…Organic products include, Vegan Gummi Bears, Ice Cream & Sugar Cones, Organic Tapioca and Organic Coconut. Let's Do...Organic® is a registered trademark of Edward & Sons Trading Co., Inc. Carpinteria, CA 93013 www.edwardandsons.com/.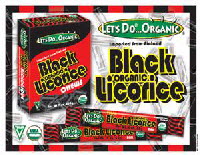 About Edward & Sons
Based in Carpinteria, California, Edward & Sons Trading Company Inc. has been creating innovative vegetarian products for three decades. The company's history is distinguished by a long list of natural food "firsts." Beginning with Miso-Cup in 1978 (America's first natural instant soup), they continued with Edward & Sons' Baked Brown Rice Snaps in 1979 (the first gluten-free whole grain crackers). Other "firsts" include Premier Japan Ginger Tamari in 1984 (the first flavored soy sauce), Let's Do...Organic ice cream cones in 2001 (the first organic ice cream cones), and numerous organic canned items under the company's Native Forest® brand: Native Forest Organic Hearts of Palm (1996), Native Forest Organic Coconut Milk (2002), Native Forest Organic Canned Pineapple and other tropical fruits (2004). "Convenience Without Compromise"™ is a slogan that guides product development to this day. While Edward & Sons designs delicious, natural convenience foods for everyone to enjoy, the company's emphasis on simple, wholesome ingredients insures them an especially loyal following among those with special diets or food sensitivities. Please visit www.edwardandsons.com/ for more details.