WHOLEMATO IS SPICING UP THE KETCHUP CATEGORY
New Spicy Organic Agave Ketchup is a 'Whole' New Culinary Experience
April 9, 2008 –
The ketchup shelf at grocery stores used to be boring. Thankfully, Wholemato (www.wholemato.com) has been spicing things up. Wholemato has introduced the first Spicy Organic Agave Ketchup, and if the hot response to its preview by attendees at the recent Natural Products Expo West trade show is an indication, the timing is ripe for yet another fresh and healthy Wholemato version of an old classic.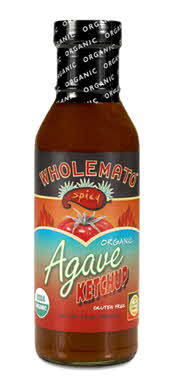 Ketchup is America's favorite condiment. Estimates note that it is stocked in 97% of all kitchens in the U.S., yet Wholemato's President and founder Jason Kessler was amazed at the limited variety of ketchups on the local supermarket's shelf. "Wholemato was created to fill a culinary void," says Kessler. "Our Original Organic Agave Ketchup has received an inspiring response from retailers and customers and has proven that there is an appetite out there for even more ketchup creations," adds Kessler, whom plans to launch yet another gourmet organic ketchup later this year.
Packing a zing that is described as a medium on the 'heat' index, Spicy Organic Agave Ketchup is a unique flavor combination of robust spices, jalapeno peppers, premium ripe organic tomatoes and healthy agave nectar. Agave is gaining in popularity as a natural sweetener because it is comprised primarily of fructose, which means it is slightly sweeter to the taste buds, yet it does not adversely impact blood glucose and insulin. Agave is a delightful sweetener for everyone, but it is especially ideal for the millions of diabetics and parents of hyperactive children that have concerns regarding glycemic levels in food. Wholemato Spicy Organic Agave Ketchup has been certified as Low-Glycemic for Diabetics by the Glycemic Research Institute due to its extremely low score on the glycemic index of only 9 per tablespoon.

Colorful New Wholemato Bookmarks Feature Fun & Easy Recipes
Wholemato has been busy educating people about how ketchup can be much more than merely a topping for burgers and fries, in part by creating fun recipe tools such as their colorful new recipe bookmarks. "Our goal is for people to understand that our organic agave ketchups are tasty and convenient recipe tools," says Kessler. The prime cookout and picnic season has almost arrived, and Wholemato now has two healthy ketchups to place in the cooler or picnic basket for an outdoor culinary adventure. Wholemato ketchups are flavorful sauces to add to a wide variety of picnic and barbecue recipes.

Wholemato Spicy Organic Agave Ketchup is offered in a premium glass bottle. The 13-ounce glass bottle provides comfort to the growing number of people concerned about chemicals that may leach out of plastic bottles – especially since tomatoes and ketchup have a naturally acidic pH. Wholemato Spicy Organic Agave Ketchup is gluten-free, and has a remarkable mouth-feel that is not experienced with other ketchups. The suggested retail price is $5.49, and it is available at retailers across the U.S.

Wholemato is a family-owned business that is committed to enhancing the health of customers and supporting sustainable organic agriculture. All of the ingredients in Wholemato Spicy Organic Agave Ketchup are certified organic, and the agave nectar is harvested sustainably by a collective of indigenous people in Mexico. The founders of Wholemato celebrate the great southern tradition of sauce-making and have combined their love of gourmet food with their formal nutrition training and vast culinary experience to produce foods that are wholesome and of the highest quality.
---------