H.J. HEINZ OFFERS CUSTOMIZED KETCHUP LABELS
PLEASE NOTE THAT HEINZ IS NO LONGER OFFERING THE CUSOMIZED LABELS MENTIONED IN THIS ARTICLE (Feb/2018)
The H.J. Heinz Company has come up with a fun idea, and it may be the beginning of a trend. They have started a new Personalized Ketchup Labels service. You can go to a special website and purchase Heinz Ketchup in several size bottles and add your own custom sayings to the labels. They plan to expand this feature for the holidays too. More details are below.

Heinz has come up with marketing innovations from its beginnings - they had the largest commercial exhibit at the 1893 Chicago World's Fair, and in 1900 H.J. Heinz erected the first electric sign in New York (a 40 foot pickle). They are learning how to utilize the advantages the internet offers, and I believe other companies will be watching their experience closely.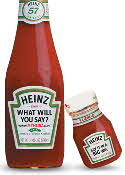 CONSUMERS GET CHANCE TO 'HAVE THEIR SAY' ON HEINZ KETCHUP BOTTLES

Heinz Launches Myheinz.com to Offer "Create-Your-Own" Labels That Speak For Themselves at Birthdays, Weddings and Every Occasion in Between

The H.J. Heinz Company marked the occasion of its famous Ketchup brand's 130th birthday by allowing consumers to celebrate their own occasions with a special bottle of red – Ketchup that is. By visiting www.myheinz.com, you can pen your own witty, sentimental or celebratory message on the iconic ketchup bottles for the ultimate unique party favor or personalized gift.

"With the success of our previous 'Talking Labels' campaign and 'Say Something Ketchuppy' contests, we realized our consumers have really enjoyed the many witty phrases and catchy quips that appeared on the Heinz keystone-shaped labels in recent years," said Wendy Joyce, senior brand manager for Heinz Ketchup. "Now, we're giving consumers a chance to create their own one-of-a-kind phrase on Heinz bottles for a unique and surprising way to say something special."
You Said to Bring a Bottle of Red
At the touch of your keyboard, you can make any occasion a special one by creating your own customized Heinz Ketchup bottle. Whether wishing little Timmy "HAPPY 8th BIRTHDAY," branding "BOB'S BBQ BASH" or creating a one-of-a-kind favor for the big wedding of "TONY & LINDA, SEPTEMBER 24, 2006," you can get more creative than ever before with their Ketchup bottles.

Heinz is offering three sizes of customizable Ketchup bottles, including the iconic 14-ounce glass, 20-ounce Top-Down, and special "mini" 2.25-ounce Ketchup bottles. The "mini" favor-sized bottles, which were previously available only on a limited basis through hotel room service and the Heinz gift shops, also will be available with Heinz Dijon Mustard.
You can also tap into a list of ready-made stock labels available directly on the Web site, including commonly used special occasion sayings such as "HAPPY BIRTHDAY," "HAPPY ANNIVERSARY," "WELCOME NEW BABY" or "CONGRATULATIONS!"

User-Friendly Web Site
You can now simply visit www.myheinz.com, a specially created Web site, and follow a quick and easy three-step process consisting of:

• Step 1, selecting the desired bottle;
• Step 2, creating a message or selecting one of the ready-made labels;
• Step 3, making the purchase with any major credit card.

The Web site allows you to review your customized label as you create it and preview an image of the final version before completing your purchase. Once an order is placed, delivery is expected within four to six weeks with a rush delivery option for any upcoming events.

The "mini" bottles are available on the site with a minimum order of four bottles, while the other sizes are available with no minimum order. Prices per bottle range from $4 to $6.50 with discounts on multiple orders. All prices and shipping costs are available on the Web site at www.myheinz.com.

Later this fall, Heinz plans to extend its offering to include a special promotional section of the site, which will include a selection of fun, specially designed seasonal and themed labels, which may also be customized.