Limited Edition Holiday Chocolate Flavors And Recipes Rescue Last-Minute Hostesses
Swiss-Inspired Suggestions Take Holidays "From Frazzled To Frey"
(Recipes below)
Buchs, Switzerland - Unexpected guests and last-minute gift-giving don't have to spoil the holiday spirit. Spontaneous entertaining is made bearable - even fun - with new Swiss-inspired suggestions from Chocolat Frey, based in a country known for its rich holiday traditions. Switzerland's #1 chocolate maker is introducing limited edition holiday flavors and companion recipes to helpany frazzled hostess whip up gourmet meals with a European panache in 15 minutes or less.

Limited edition Gingerbread, Winter Fruit & Nut, and Cinnamon Coriander chocolate bars will be available in early November for novel gift-giving and a new twist on conventional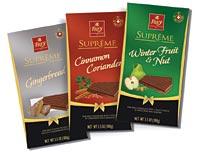 holiday foods. Chef Debbie Mosimann, owner-innkeeper-resident chef of Swiss Woods Bed & Breakfast, one of Select Registry's "Distinguished Inns of North America," has updated traditional recipes with these chocolate bars for spontaneous entertaining. Drawing from her Swiss ancestry, which is memorialized in the National Museum in Zurich, and her husband's native Swiss customs, Chef Mosimann says these dishes can be prepared in advance of a big holiday gathering or on-the-spot when unexpected guests knock at the door.

"There's no reason that hosts and hostesses can't enjoy get-togethers along with their guests," explains Mosimann. "In Switzerland, everyone relaxes around the fondue pot or with a cup of hot chocolate and Grittibanz by the fireside. With these new recipes, I want to take American hostesses from frazzled to Frey!"

While Grittibanz, similar to gingerbread men, take a little more care to make (recipe on www.chocolat-frey.com), Mosimann has created no-hassle dishes for elegantly carefree entertaining. She whips up a chocolate mousse and stores it in the refrigerator to be used as the base for epicurean mugs of foaming Cinnamon Coriander Hot Chocolate. Chocolate-stuffed Swiss Toast, a quick and elegant Christmas morning breakfast entree, is made with Swiss Zopf butter bread that can easily be substituted with thick bread or Challah bread for a Chanukah breakfast treat. With a nod to their homeland, Matterhorn meringues lend an Alpine spirit to winter buffet tables.

Then, there's the gift-giving. Chocolat Frey's Euro-cool flavors (14 3.5-ounce bars and 2 10.5-ounce party bars available exclusively at Target stores nationwide) can be paired with a bottle of spiced holiday wine for a creative hostess gift. A flavor-themed gift basket can be created with a holiday ornament, festive cloth napkins and candles, and coordinating flavor-infused chocolate bars. Stocking stuffers can be customized by matching personalities to the various chocolate flavors. Really ambitious holiday decorators can create gingerbread Swiss chalets decorated with morsels from the Gingerbread chocolate bar.

The options are endless with the imaginative flavors that make it easy to spontaneously entertain friends, relatives, or even the whole neighborhood! The following recipes have been created by Chef Mosimann for Chocolat Frey. They are offered with both English and Swiss-German names to enhance your culinary experience.
RECIPES

CINNAMON CORIANDER HOT CHOCOLATE
(Heissi Zimt Koriander Schoggi)

Not the hot chocolate of your childhood, this foaming drink creates a visual molecular cuisine experience before your eyes.
Servings: 4
Preparation time: 10 mins.
Ready in: 10 mins.

Ingredients
• 1 cup heavy whipping cream
• 1 tablespoon sugar
• 1 tablespoon cocoa powder
• 6 squares Frey Cinnamon Coriander chocolate bar, chopped
• 4 squares Frey Cinnamon Coriander chocolate bar (for garnish)
• 2 cups milk
• 1 inch cinnamon stick
• Spoon, for extra treat at bottom of the cup!

Directions
In a small bowl, whip the whipping cream until stiff — do not over beat. Fold in cocoa powder, chopped chocolate and sugar. Heat milk and piece of cinnamon stick in saucepan, carefully so as to not boil. Heap mousse into large mouth tea or coffee cup. Use a lightly warmed knife to cut chocolate and prevent splintering. Place 1 square of Cinnamon Coriander chocolate on top. Pour hot milk over the mousse. Using a hand-held grater and 1 square of Frey Cinnamon Coriander chocolate, create a chocolate curl for garnish. Do not stir, serve immediately.

Tip: Cinnamon Coriander chocolate mousse can be made in advance and stored in the refrigerator up to 2-3 days — a perfect winter treat to serve with Grittibanz stuffed with chocolate on a cold, snowy day!


CHOCOLATE STUFFED SWISS TOAST
(Fotzelschnitte mit Schoggi gfullt)

This is a Swiss twist on an American favorite for a festive holiday breakfast.
Servings: 4
Preparation time: 10 mins.
Ready in: 10 mins.

Ingredients
• Zest of 1/2 orange
• 4 thick slices of day-old Swiss Butter Zopf bread (any thick butter bread may be substituted)
• 1- 3.5 oz. Frey limited-edition holiday flavor chocolate bar, broken into squares
• 4 eggs, beaten
• 1 cup half and half (or whole milk)
• 1 teaspoon vanilla
• 1/4 teaspoon cinnamon, preferably Saigon or Vietnamese
• 1 tablespoon butter
• Confectioners' sugar

Directions
Cut bread into 1-1/2 inch thick slices. Slice each piece lengthwise but not completely through, creating a pocket. Stuff each pocket with 3 squares of a Gingerbread, Cinnamon Coriander or Winter Fruit & Nut chocolate bar. In a shallow, flat bowl, whisk the eggs, cream (or milk) and cinnamon. Lay 4 slices of stuffed bread into the egg mixture. Allow to stand for 10 seconds before turning over on other side. Let stand.

Heat the griddle or large fry pan to medium/high heat. Add butter to skillet coating the bottom. Turn the toast in the egg mixture an additional time allowing it to absorb as much of the mixture as possible. Place bread pieces on hot skillet turning when brown, approx. 5 minutes on each side. Remove and place toast on a cookie sheet in warm oven until ready to serve. Serve with maple syrup, fresh berries, whipped cream, and a dusting of cinnamon and/or confectioners' sugar.

Tip: For an easy step-by-step recipe to make your own Swiss Butter Zopf bread, visit www.chocolat-frey.com

MATTERHORN MERINGUES
These light, airy cookies are reminiscent of the first meringues baked in the Swiss town of Meiringen during the 1600s.
Yield: 18 small meringues
Preparation time: 15 mins.
Ready in: 2 hrs.

Ingredients
• 4 egg whites, room temperature
• 2 1/4 cups powdered sugar
• 1 teaspoon vanilla
• 1/4 teaspoon cream of tartar
• 1/2 lemon
• 5 squares of Frey Winter Fruit & Nut chocolate bar

Directions
Rub sides of bowl with cut side of lemon. Measure in egg whites, and beat with electric mixer until foamy; gradually add sugar, beating until stiff peaks form and hold their shape.

Use lightly warmed knife to chop chocolate in small pieces and prevent splintering. Preheat oven to 220°. Line cookie sheet with parchment paper. Gently fold chocolate pieces into meringue mixture. Using a teaspoon, drop meringue onto prepared cookie sheet. Tip: A pastry bag with a round tip can be used, if preferred. Bake in preheated oven for 1 hour, checking if meringues are dry but not brown. Leave oven door ajar allowing meringues to continue drying for 1 hour. Cool completely and store in airtight container. Meringues will last for several weeks if stored properly. Serve with ice cream or Cinnamon Coriander chocolate mousse (see Cinnamon Coriander Hot Chocolate recipe).


HOLIDAY FONDUE (Wienachts Schoggi Fondue)
Nothing says Switzerland quite like fondue, especially one enhanced with gingerbread or fruit and nuts.
Servings: 1
Preparation time: 10 mins.
Ready in: 10 mins.

Ingredients
• 13.5 oz. Frey limited-edition holiday flavor chocolate bar in Cinnamon Coriander, Gingerbread or Winter Fruit & Nut, broken into squares
• 2 tablespoons whipping cream
• Optional: 1 tablespoon kirsch (for use with Chocolat Frey Winter Fruit & Nut chocolate bar), or 1 teaspoon Goldschlager® (for use with Chocolat Frey Cinnamon Coriander chocolate bar), or 1 teaspoon brandy (for use with Chocolat Frey Gingerbread chocolate bar)

Directions
Heat the whipping cream in a small pot, carefully so as to not boil.

Tip: Use a lightly warmed knife to cut chocolate and prevent splintering. Remove from heat and add chocolate bar pieces. Stir until melted. Optional: add any liquor and stir until incorporated. Pour chocolate liquid into small fondue pot or butter warming ramekins, and keep warm over a candle.

Serve with an assortment of winter fruits such as Clementines, pears, blood oranges, and apples, angel food or pound cake bites, or marshmallows.
---------