OCTOBER 16
Today in Food History
• [World Food Day] - The Food and Agriculture Organization of the United Nations marks World Food Day each year on 16 October, the day on which the Organization was founded in 1945.

• National Liqueur Day (Liqueur Articles)

• St. Gall, patron of geese and poultry
• National School Lunch Week (Oct 15-19, 2018)
[School Nutrition Association]

• UK: [Pyrex National Baking Week] (Oct 15-21, 2018)
(Baking Articles & Recipes)

• UK: [Seed Gathering Season] (Sept 23-Oct 23, 2018)

On this day in:
1793 Marie Antoinette, Queen consort of Louis XVI of France, was guillotined (born Nov 2, 1755). She would sometimes wear potato blossoms as a hair decoration. Attributed quote: "If they have no bread, let them eat cake."
1829 The Tremont Hotel opened in Boston. It was the first modern hotel in the U.S. Rooms were $2 per day with meals included. It was the first hotel with indoor plumbing, with toilets and rooms for baths in the basement.

1901 President Theodore Roosevelt invited educator Booker T. Washington to dinner at the White House. Other presidents had invited African-Americans to meetings at the White House, but Washington was the first African-American to dine at the White House.
1928 Eliza Maria Mosher died (born Oct 2, 1846). An American physician whose wide-ranging medical career included an educational focus on physical fitness and health maintenance.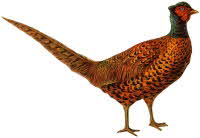 1929
Minnesota's first pheasant season begins. Ring-necked pheasants were introduced to the state from China in 1905.
(Pheasant Trivia -- Pheasant Recipes)
1939 'The Man Who Came to Dinner' opened on Broadway.
1941 'Fry Me Cookie, with a Can of Lard' was recorded by the Will Bradley Orchestra.

1945 World Food Day. The founding day of the U.N. Food and Agriculture Organization.
1962 'Flea' (Michael Peter Balzary) was born. Bass player for the music group 'Red Hot Chili Peppers.'

1976 'Disco Duck (Part 1)' by Rick Dees and His Cast of Idiots was #1 on the music charts.
1986 A record northern pike weighed over 55 pounds and was caught in Germany.
2005 Elmer 'Len' Dresslar Jr. died (born March 25, 1925). Voice actor, best known as the booming voice of the Jolly Green Giant in commercials.

Please feel free to link to any pages of FoodReference.com from your website. For permission to use any of this content please E-mail: [email protected] All contents are copyright © 1990 - 2019 James T. Ehler and www.FoodReference.com unless otherwise noted. All rights reserved. You may copy and use portions of this website for non-commercial, personal use only. Any other use of these materials without prior written authorization is not very nice and violates the copyright. Please take the time to request permission.


CULINARY SCHOOLS
and COOKING CLASSES
From Amateur & Basic Cooking Classes to Professional Chef Training - Over 1,000 schools & classes listed for all 50 States, Online & Worldwide
FREE Food Magazines
An extensive selection of free food, beverage & agricultural magazines, e-books, etc. for qualified professionals
FoodReference.com (since 1999)
FOOD CALENDAR SECTION: Today in Food History, Timeline & Food Holidays: National Food Days, Weeks & Months