PHEASANT TRIVIA and FACTS
The pheasant is a game bird native to southern and central Asia, which has been introduced successfully to Europe and North America. The ring necked pheasant has become well established in the United States. Pheasants are also raised commercially.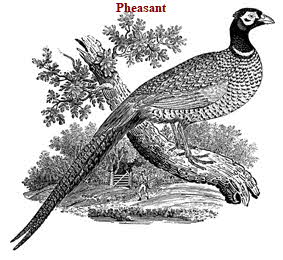 Pheasants belong to the family Phasianidae, which includes the quails, partridges, and jungle fowl.

Ruffed grouse are sometimes referred to as pheasant in the southern U.S.

The Ring-necked Pheasant (Phasianus culchicus) was designated as the Official Bird of South Dakota in 1943.

Norton is the Pheasant Capital of Kansas.

There are 463 people in the U.S. listed on whitepages.com with the last name 'Pheasant'

FOOD TRIVIA and FOOD FACTS
Please feel free to link to any pages of FoodReference.com from your website.
For permission to use any of this content please E-mail: [email protected]
All contents are copyright © 1990 - 2023 James T. Ehler and www.FoodReference.com unless otherwise noted.
All rights reserved. You may copy and use portions of this website for non-commercial, personal use only.
Any other use of these materials without prior written authorization is not very nice and violates the copyright.
Please take the time to request permission.


FoodReference.com (since 1999)
FOOD TRIVIA and FOOD FACTS SECTION