See also: Article on Pears
PEARS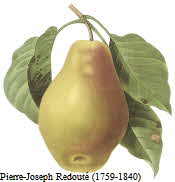 There were 68,216 acres of pear trees in the U.S.
(latest USDA ag census in 2007).

The Pear (Pyrus communis) was designated as the Official Fruit of Oregon in 2005.

Green Anjou pear puree is used to flavor the 'Juicy Pear' variety of Jelly Belly gourmet jelly beans.

There are more than 5,000 varieties of pears, not all of them are pear-shaped. They have been cultivated since before 2000 B.C.

The leading pear producers, in order are Italy, China and the United States.

Pear trees can produce fruit for up to 100 years.

The Seckel pear was discovered growing near the Delaware River in Pennsylvania in the early 18th century by a farmer named Seckel.

Pears have been cultivated for about 4,000 years, and are now grown in almost all temperate regions of the world. There are more than 5,000 varieties.

FOOD TRIVIA and FOOD FACTS
Please feel free to link to any pages of FoodReference.com from your website.
For permission to use any of this content please E-mail: [email protected]
All contents are copyright © 1990 - 2023 James T. Ehler and www.FoodReference.com unless otherwise noted.
All rights reserved. You may copy and use portions of this website for non-commercial, personal use only.
Any other use of these materials without prior written authorization is not very nice and violates the copyright.
Please take the time to request permission.


FoodReference.com (since 1999)
FOOD TRIVIA and FOOD FACTS SECTION