See also: Persimmon Article & Photos
PERSIMMONS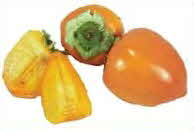 There are two main species of edible Persimmon, one is native to Japan (Diospyros Khaki) and the other is native to the Eastern United States (Diospyros virginiana). There is a third species, known as the Black Sapote (Diospyros digyna) native to Mexico.

The American variety is a small orange-yellow color, plum-sized fruit which must be fully ripe to be edible. Unripe persimmons (actually a large berry) are inedibly sour, fully ripe fruit are honey sweet with a papaya-mango taste and jelly-like texture. They have long been used by Native Americans, who ate them ripe and also dried them for later consumption.

The Japanese persimmon, actually originating in China is the main persimmon of commerce. The apple sized fruit is sweet with low acidity. They are eaten fresh, candied, dried, made into preserves and used in ice creams.

FOOD TRIVIA and FOOD FACTS
Please feel free to link to any pages of FoodReference.com from your website.
For permission to use any of this content please E-mail: [email protected]
All contents are copyright © 1990 - 2023 James T. Ehler and www.FoodReference.com unless otherwise noted.
All rights reserved. You may copy and use portions of this website for non-commercial, personal use only.
Any other use of these materials without prior written authorization is not very nice and violates the copyright.
Please take the time to request permission.


FoodReference.com (since 1999)
FOOD TRIVIA and FOOD FACTS SECTION