HERBED MARINATED PORK CHOPS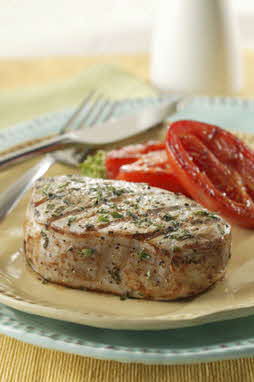 Serves 4
Ingredients
4 boneless pork loin chops, about 1-inch thick
• 2 tablespoons lemon juice
• 2 tablespoons olive oil
• 2 tablespoons fresh parsley, chopped*
• 1 teaspoon fresh rosemary, chopped*
• 1 teaspoon fresh thyme, chopped*
• 1/2 teaspoon fresh sage, chopped*
• 1/4 teaspoon pepper
• Additional fresh herbs (optional)

Cooking Directions
Brush chops with lemon juice. In a small bowl combine oil, herbs and pepper; mix well. Rub herb mixture on both sides of chops. Arrange in a baking dish; cover and refrigerate 4 hours or overnight.

Place pork on grill, about 5 inches over slow coals. Grill 12-15 minutes, turning once. Garnish with fresh herbs, if desired.
* Note: If using dried herbs, reduce amounts by 1/2 to 1/3.

Serving Suggestions
Change the flavor of this basic marinate by experimenting with other combinations of herbs. Serve with grilled vegetable kabobs and pasta salad.

Nutrition Facts
Calories 208 calories; Protein 22 grams; Fat 12 grams; Sodium 48 milligrams; Cholesterol 57 milligrams; Saturated Fat 3 grams; Carbohydrates 1 grams; Fiber 0 grams

Recipe and photo courtesy of National Pork Board. For more information about The Other White Meat, visit TheOtherWhiteMeat.com