HERBED BUTTERFLY PORK CHOPS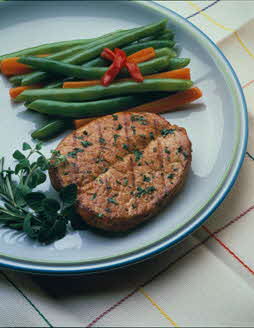 Serves 4
Ingredients
• 4 boneless butterfly pork chops, about 4 ounces each
• 2 tablespoons lemon juice
• 2 tablespoons chopped parsley
• 1/2 teaspoon crumbled rosemary
• 1/2 teaspoon crumbled thyme
• 1/4 teaspoon black pepper

Cooking Directions
Brush chops with lemon juice.

Combine remaining ingredients; mix well. Rub herb mixture on both sides of chops.

Grill or broil for 10-12 minutes, turning occasionally.

Garnish with fresh herbs, if desired.

Serving Suggestions
Use your herb garden for this basic chop. Simply change the flavor by changing the herbs. The cooking time is the same for grilling and for broiling. Serve with steamed green beans and pasta.

Nutrition Facts
Calories 149 calories; Protein 22 grams; Fat 6 grams; Sodium 48 milligrams; Cholesterol 57 milligrams; Saturated Fat 2 grams; Carbohydrates 1 grams; Fiber 0 grams

Recipe and photo courtesy of National Pork Board. For more information about The Other White Meat, visit TheOtherWhiteMeat.com