BLACK PEPPER CHOPS WITH MOLASSES BUTTER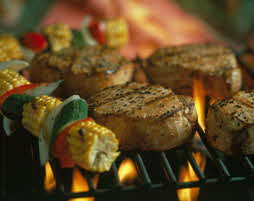 Serves 4.
Ingredients
• 4 boneless center loin chops, 1½-inch thick

• 1/4 cup butter
• 1 tablespoons molasses
• 1/2 teaspoon lemon juice
• 4 tablespoons coarsely ground black pepper

Cooking Directions
In small bowl blend butter, molasses and lemon juice with fork.
Cover and refrigerate.
Rub chops on both sides evenly with pepper.
Grill chops over a medium-hot fire for 12-15 minutes, turning once.
Top each chop with a tablespoon of molasses butter.

Serving Suggestions
There's almost nothing to compare to the aroma of pork on the grill; and these chops live up to that taste memory. The molasses butter adds an unexpected and pleasant flavor punch to chops hot-off-the-grill.
Nutrition Facts
Calories 290 calories; Protein 25 grams; Fat 18 grams; Sodium 168 milligrams; Cholesterol 96 milligrams; Saturated Fat 10 grams; Carbohydrates 8 grams;Fiber 2 grams

Recipe and photo courtesy of National Pork Board. For more information about The Other White Meat, visit TheOtherWhiteMeat.com