CINNAMON APPLE CHOPS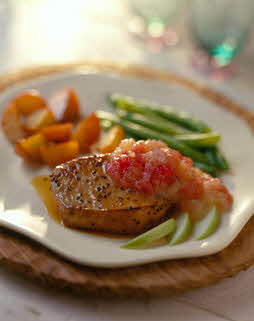 Serves 4.
Ingredients
• 4, 3/4-inch boneless pork chops
• Vegetable oil
• 1 teaspoon black pepper
• 1/2 cup chicken broth
• 1 tablespoon lemon juice

• Chunky applesauce with cinnamon red hot candies *

Cooking Directions
Heat a nonstick skillet over medium-high heat. Brush chops lightly with oil and brown chops on both sides, turning once, about 3-4 minutes. Sprinkle chops with pepper, add broth and lemon juice. Reduce heat to low, cover and simmer gently for 5 minutes. To serve, top with applesauce and cinnamon candies.

* In small saucepan, stir together 1½ cups applesauce and 2 tablespoon candies. Heat over medium heat, stirring often, until candies are melted; stir well to thoroughly combine.

Serving Suggestions
Give your applesauce a red hot twist to update this family favorite standard. Serve with roasted red potatoes and steamed green beans.
Nutrition Facts
Calories 280 calories; Protein 22 grams; Fat 9 grams; Sodium 160 milligrams; Cholesterol 55 milligrams; Saturated Fat 3 grams; Carbohydrates 27 grams; Fiber 1 grams

Recipe and photo courtesy of National Pork Board. For more information about The Other White Meat, visit TheOtherWhiteMeat.com