FIERY ISLAND PINEAPPLE PORK CHOPS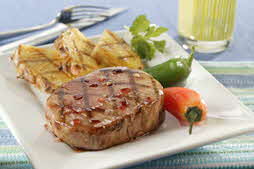 Makes 4 servings.
Ingredients
• 4 boneless pork chops, 1/2-inch thick
• 4 teaspoons Jamaican Jerk seasoning
• 1/3 cup hot pepper jelly
• 2 tablespoons pineapple juice
• 1 teaspoon minced fresh ginger
• 4 slices fresh pineapple (cored, 1/2-inch thick) or canned pineapple rings

Cooking Directions
Coat chops with jerk seasoning; set aside for 5 minutes.

Meanwhile, microwave jelly, pineapple juice and ginger on High for 30 to 60 seconds or until melted.

Grill pork over medium-high heat for 5 to 6 minutes per side, turning once. Baste frequently with glaze.

During last 3 minutes of grilling time, place pineapple rings on the grill. Baste with jelly mixture.

Grill pineapple until heated through.

Serve pork chops with pineapple.

Serving Suggestions
Add tropical flair to the family dinner table with Fiery Island Pineapple Pork Chops. A favorite temptation from Great Falls, Montana, Edwina Gadsby's second place "No Recipe" recipe contest winner is sure to entice your family's appetite.

Nutrition Facts
Calories 271 calories; Protein 28 grams; Fat 6 grams; Sodium 523 milligrams; Cholesterol 72 milligrams; Saturated Fat 2 grams; Carbohydrates 25 grams; Fiber 1 grams

Recipe and photo courtesy of National Pork Board. For more information about The Other White Meat, visit TheOtherWhiteMeat.com