CHAMPAGNE CHOPS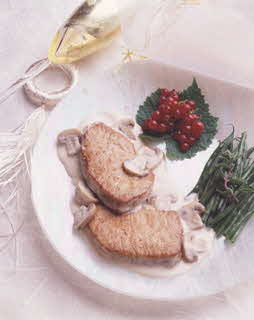 Serves 4
Ingredients
• 8 boneless pork center loin chops, about 1/2-inch thick
• 2 tablespoons flour
• 1/2 teaspoon salt
• Dash white pepper
• 1 teaspoon butter, melted
• 1 teaspoon olive oil
• 3/4 cup champagne or dry white wine
• 1/4 cup sliced fresh mushrooms
• 1/2 cup heavy cream

Cooking Directions
Combine flour, salt and pepper. Lightly dredge chops in flour mixture.

Heat oil and butter over medium-high heat in nonstick skillet; add chops and brown about 2 minutes on each side.

Lower heat to medium-low and add champagne; cook about 4-5 minutes.

Remove chops, set aside and keep warm.

Add mushrooms and cream to skillet; cook over low heat, stirring constantly, just until thickened.

Return chops to pan, cook just to reheat and serve immediately.
Serving Suggestions
Make tonight a special occasion with these elegant but easy chops. Serve with asparagus spears and French bread. Salut!
Nutrition Facts
Calories 440 calories; Protein 46 grams; Fat 22 grams; Sodium 660 milligrams; Cholesterol 175 milligrams; Saturated Fat 11 grams; Carbohydrates 5 grams; Fiber 0 grams

Recipe and photo courtesy of National Pork Board. For more information about The Other White Meat, visit TheOtherWhiteMeat.com