AMERICAS FAVORITE PORK CHOPS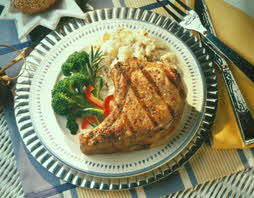 Serves 4.

Ingredients
• 4 pork chops, about 3/4-inch thick
• 3/4 cup Italian dressing *
• 1 teaspoon Worcestershire sauce

Cooking Directions
Place all ingredients in a self-sealing bag; seal bag and place in refrigerator for at least 20 minutes (or as long as overnight).

Remove chops from bag, dicarding marinade, and grill over a medium-hot fire, turning once, until just done, about 8 to 11 minutes total cooking time.

* Or use a reduced-fat Italian dressing
Serving Suggestions
An easy way to marinade your pork chops.

Serve with sliced tomatoes in vinegrette, broccoli spears and garlic mashed potatoes.

Nutrition Facts
Calories 210 calories; Protein 25 grams; Fat 11 grams; Sodium 140 milligrams; Cholesterol 60 milligrams; Saturated Fat 3 grams; Carbohydrates 1 grams;

Recipe and photo courtesy of National Pork Board. For more information about The Other White Meat, visit TheOtherWhiteMeat.com