BROILED PORK CHOPS WITH VEGETABLE MEDLEY AND CINNAMON APPLES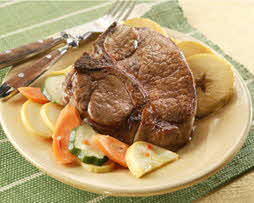 Serves 4
Ingredients
• 4 center cut pork chops, 1¼-inch thick
• Salt and pepper, to taste
• 2 cups mixed sliced summer squash
• 1 cup sliced carrots
• Vinaigrette dressing

• 2 tart green apples, cored and sliced into thin rings

• 1 tablespoon butter
• 1 tablespoon brown sugar
• 1 teaspoon cinnamon

Cooking Directions
Season chops with salt and pepper. Broil 4 to 5 inches from heat source for 8 to 10 minutes per side. Serve immediately with vegetable medley and cinnamon apples.
Vegetable Medley: Steam summer squash and carrots. Toss with your favorite vinaigrette dressing.
Cinnamon Apples: Melt butter in heavy skillet over medium-high heat. Saute apple rings until tender, 5-6 minutes. Sprink with brown sugar and cinnamon. Stir gently to blend.
Serving Suggestions
Simply broiled pork chops accompany sautéed apples and a favorite vegetable for a simple but satisfying supper.
Nutrition Facts
Calories 329 calories; Protein 24 grams; Fat 17 grams; Sodium 206 milligrams; Cholesterol 74 milligrams; Saturated Fat 5 grams; Carbohydrates 21 grams; Fiber 4 grams

Recipe and photo courtesy of National Pork Board. For more information about The Other White Meat, visit TheOtherWhiteMeat.com