MILE HIGH POPPY SEED BREAD
Note from Chef James: I have recently moved from Key West, Florida to Winona, Minnesota, where I lived for a while many years ago. This is the first of what will be an extensive area of the website about the Winona area and its relationship with food. Chef James
The following is a recipe by Grant Borkowski, who is a member of a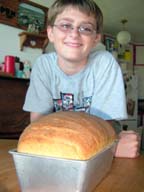 local 4H club and makes projects for the county fair, This year he made bread, buns, and cookies, showed chickens ( golden polish and black silkies) made a cement bird bath and two photography projects. This year he won a Trip to the state fair where he received a blue ribbon for his bread.
Grant Borkowski also plays the banjo and trumpet and lives on the family farm on the bluffs above Winona, Minnesota. He loves playing video games and playing with his cats and puppy Lou.
Congratulations to Grant, and welcome to the Food Reference Website! Chef James

From: The All-New Blue RIbbon Cookbook by Catherine Hanley

Makes 1 (1/2-lb.) loaf.

(Scant 1 tablespoon) active dry yeast
1/4 cup warm water (105 to 115F)
1/2 cup water
2 tablespoons sugar
1/4 cup butter, cut into chunks
1 teaspoon salt
1 tablespoon poppy seeds
3 to 31/2 cups bread flour
2 eggs
2 egg yolks

Directions
1. In a small bowl, sprinkle yeast on the warm water, stir to dissolve and let stand until bubbly

2. In the microwave, heat the 1/2 cup water, sugar, butter, salt and poppy seeds to 115F (45C), stirring to mix ingredients. Pour into a large mixer bowl.

3. Add 11/2 cups flour and the yeast mixture.

4. Beat until well mixed the beat in eggs and egg yolks.

5. Switch the mixer to use a dough hook

6. Mix in enough additional flour to make soft dough that pulls away from the sides of the bowl.

7. Knead dough for 5 minutes on a #2 speed.

8. Grease a large bowl. Place dough in greased bowl and turn to grease top.

9. Cover with plastic wrap and let rise in a warm place until double, 45 to 60 minutes.

10. Punch down dough.

11. Grease an 8/2 X 4 inch loaf pan.

12. Turn dough out onto a lightly floured surface, form into a loaf and place in greased loaf pan.

13. Cover with plastic wrap and let rise until just double, about 45 minutes.]

14. Remove top oven rack. Preheat oven to 375F

15. Bake the loaf on lower rack 35 to 40 minutes or until crust is deep golden brown.

16. Let bread cool in pan 1 to 2 minutes for easier removal.