GNOCCHI, POTATO GNOCCHI BOLOGNESE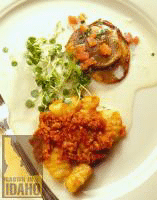 INGREDIENTS:
• 1/2 lb Diced pancetta
• 2 lb Ground veal
• 1 Onion, minced
• 1 Carrot, minced
• 1 rib Celery, minced
• 1 cup White wine
• 1/2 qt Heavy cream
• 2 cups Crushed tomatoes
• 1 clove Minced garlic
• Nutmeg to taste
• Salt and pepper to taste

DIRECTIONS:
For the Bolognese:
1. Sauté the pancetta in a heavy bottomed rondeau then add the veal and the white wine.

2. Add the mirepoix, tomatoes, and the heavy cream

3. Reduce the heat to a simmer and let the volume reduce by 1/3

4. Add the nutmeg and the garlic.
For the Gnocchi:
1. Potato Gnocchi: Steam 3 potatoes, let rest, and rice the peeled potatoes when tender, in a bowl, mix with 1/2 cup milk, 4 Tbsp unsalted butter, I tsp salt and 1 cup flour. After a ball is formed, add 2 eggs, 1 at a time.

2. Form the Gnocchi: Roll the dough into 3/4 inch ropes 1 foot long. Sprinkle with flour and cut the dough into 1/2 inch lengths. Place on a floured parchment paper lined sheet tray and freeze.

3. Cook the Gnocchi: Drop the gnocchi into boiling salted water. They are done when they just begin to float. Toss with a sauce of choice.

Johnny's Bistro
Idaho Potato Commission: www.idahopotato.com