BAKED MASHED IDAHO POTATOES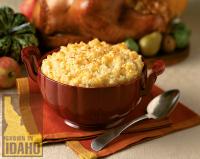 Susan Allen of Idaho Falls, ID serves her Baked Mashed Idaho Potatoes for her Friday evening family supper using the best of her Thanksgiving Day's leftovers.
Yield: 10 servings

INGREDIENTS:
• cooking spray
• 8 cups Idaho mashed potatoes (can use leftover potatoes)
• 1 egg, lightly beaten
• 1 cup sour cream
• 1 cup small curd cottage cheese
• 5 green onions, finely chopped
• 8 butter crackers, crushed

DIRECTIONS:
1. Preheat oven to 350°. Spray a 1 1/2-qt. casserole with cooking spray.

2. In the bowl of an electric mixer, combine potatoes, egg, sour cream, cottage cheese and onions at medium speed. Spoon potato mixture into casserole dish.

3. Sprinkle with crushed crackers (or shredded cheese) and bake 30 minutes.

Idaho Potato Commission: www.idahopotato.com