CHEDDAR MASHED POTATOES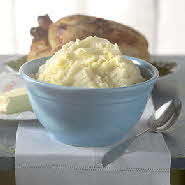 Makes 6 servings
Ingredients
• 2 pounds russet (Idaho) potatoes (4-6 medium), peeled and cut into large chunks
• 1/2-3/4 cup half-and-half or milk
• 2 tablespoons Cabot Salted Butter, cut into small pieces
• 1/4 teaspoon salt
• 1/8 teaspoon ground white pepper or 1/4 teaspoon ground black pepper
• 2 1/2 cups grated Cabot Sharp or Extra Sharp Cheddar* (about 10 ounces)

Directions
1. In large saucepan, cover potatoes with water. Bring to simmer over medium-high heat. Reduce heat to maintain steady simmer, partially cover pan and cook until potatoes are very tender when pierced with skewer, 15 to 20 minutes. Drain thoroughly.

2. Heat half-and-half or milk in small saucepan or microwave.

3. In large bowl, mash potatoes with potato ricer or masher. Add butter, salt and pepper.

4. A few tablespoons at a time, vigorously stir in enough of hot half-and-half or milk to make potatoes fluffy but not soupy. Stir in cheese. (If potatoes have cooled too much, re-heat in microwave for 1 to 2 minutes, or cover and set over pan of barely simmering water for up to 30 minutes.)

*For easy flavor variations, substitute Horseradish or Habanero Cheddar for part or all of the cheese.
Nutrition Analysis
Calories 366 , Total Fat 20g , Saturated Fat 13g , Sodium 765mg , Carbohydrates 32g , Dietary Fiber 3g , Protein 15g , Calcium 378mg

Recipe courtesy of Cabot Creamery Cooperative
www.cabotcheese.com