CREAMY CORN MASHED POTATOES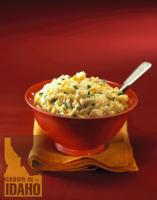 Yield: 3 quarts
INGREDIENTS:
• 6 ears fresh corn on the cob
• 1 1/2 cups heavy cream
• 8 Idaho potatoes (5 pounds), peeled and quartered
• 1 clove peeled garlic, smashed
• 4 ounces butter
• 1/4 cup sour cream
• Kosher salt
• white pepper
• 1/2 cup finely sliced chives

DIRECTIONS:
1. Remove the corn kernels from the cobs and set aside. There should be about 8 cups of corn kernels.

2. Break the cobs into thirds and place them into a pot with the cream. Bring to a boil, reduce the heat and sinimer for 5 minutes. Turn off the heat and allow the cobs to steep in the cream for 10 minutes. Strain and set aside.

3. Cook the potatoes and garlic in boiling, salted water until tender. Drain the potatoes, reserving a cup of the liquid.

4. Sauté the corn kernels in 1 tablespoon of butter, season with salt and pepper, and cook for 6 to 8 minutes.

5. Transfer half of the corn kernels to a blender along with the cream and about 1/4 cup of the potato water and puree until relatively smooth.

6. Melt the remaining butter until it begins to brown lightly and begins to smell nutty. Remove the pan from the heat so it does not burn, there will be some brown whey in the bottom of the pan.

7. Whip the potatoes in a mixer with the paddle attachment with the blended corn-cream, browned butter and sour cream. Add additional potato cooking water as needed. Fold in the remaining corn kernels, season with salt and white pepper and mix in the chives.

Jan Birnbaum Chef/Proprietor, Catahoula Restaurant & Saloon, Calistoga, CA
Idaho Potato Commission: www.idahopotato.com