FIRECRACKER SMASHED POTATOES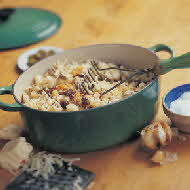 Makes 6 Servings
Ingredients
• 1 whole head garlic, top trimmed
• 1 teaspoon olive oil
• 3 pounds Idaho or russet potatoes, scrubbed
• Pinch of kosher salt
• 8 ounces Cabot 50% Reduced Fat Jalapeno Cheddar Cheese, grated
• 2 tablespoons chopped canned chipotle peppers in adobo sauce
• Canned slice jalopeno peppers for garnish

Directions
1. Preheat oven to 350°. Put garlic head on large square of aluminum foil and drizzle with oil. Gather foil around garlic, twisting top to close tightly. Bake 60 minutes or until pulp is golden and very soft. When cool enough to handle, break apart cloves and squeeze pulp from each into small bowl; mash to puree with fork.

2. In large pot of boiling, salted water, cook potatoes until tender, about 20 minutes. Drain well and return to pot.

3. Add Cabot 50% Reduced Fat Jalapeño Cheddar Cheese, chipotle peppers and garlic puree. Mash to combine, leaving potatoes very chunky. Garnish with jalapeño peppers.
Nutrition Analysis
Calories 126 , Total Fat 4g , Saturated Fat 2g , Sodium 188mg , Carbohydrates 16g , Dietary Fiber 6g , Protein 10g , Calcium 150

Recipe & photo courtesy of Cabot Creamery Cooperative
www.cabotcheese.com